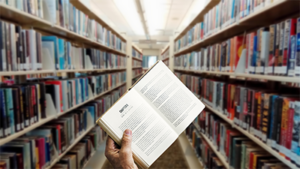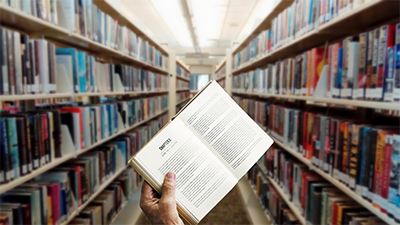 National Library Week, April 23-29, offers the opportunity to highlight the importance of libraries in our communities. Libraries provide resources along with community connections. They bring information from across the globe to every person who uses their services.
CHADD's own National Resource Center Library provides a wealth of resources, comprising physical and electronic books and digital media on ADHD and related conditions, to the CHADD and ADHD communities. These resources can be accessed online through the library database or by making an appointment with CHADD's health service librarian. The NRC library is an affiliate member of the Network of the National Library of Medicine, National Institutes of Health, and United States Department of Health and Human Services.
When CHADD's National Resource Center was established as a national clearinghouse of evidence-based information on ADHD in 2003, the NRC undertook the mission of "building a comprehensive library of books, reports, scholarly journals, and more."
Today, the NRC Library is not limited to physical books, journals, and magazines. The main draw of our library is our extensive online database. The library database has more than 12,000 materials, including news and journal articles, books, podcasts, webinars, and other digital items. It is updated frequently and contains information on topics such as treatment, coping skills, interventions, academic issues, creating routines, organization skills, and coaching.
The database includes books written by experts and practitioners in the field of ADHD research, along with books by educators and parents with the lived experience of caring for children with ADHD. Library users perusing the database can observe trends regarding over time through news articles; for example, the prevalence of adult ADHD and the presentation of symptoms in girls and women, or the emergence of nonstimulant medication, as well as complementary or alternative treatment options like TMS and even video games. Many relevant, scientific breakthroughs are recorded there and available to the public.
CHADD publications are also cataloged and searchable in the database; they are easily accessible through the Popular Searches tab. CHADD publications include:
ADHD in the News
ADHD Weekly
Ask the Expert webinars
Attention magazine
Attention Monthly
CHADD's ADHD 365 and All Things ADHD podcasts are also cataloged in the NRC Library database. For those interested in the annual international ADHD conference, recent sessions are available. Users can search solely for ADHD information published by CHADD and other reliable sources in one place.
The database has multiple facets to help with narrowing down search results by record type, year, language, audience, or subject. Users can save, email, and print results of their searches directly from the database.
If you cannot find information on a particular topic, you can email the CHADD librarian directly at library@chadd.org. Researchers who would like to recruit CHADD members to participate in a study can request more information on recruiting by contacting CHADD's librarian at post_a_study@chadd.org.
Learn more about resources from CHADD's National Resources Center: