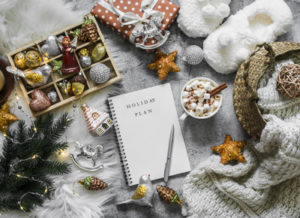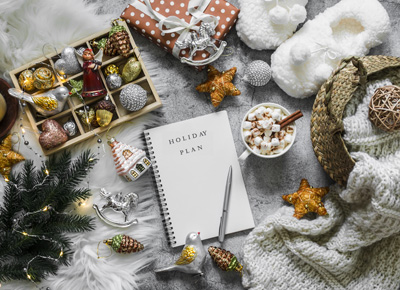 The first week of December is when most people starting to feel the pressure of the holiday season—or start hoping to avoid it. The weeks between Thanksgiving and New Year's Day are busy. Having ADHD can complicate your seasonal planning.
"The holidays are filled with both joy and stress," says Ellen Braaten, PhD. Sixty-two percent of adults, according to her research, feel their stress levels go up during the holiday season. It's easy to believe that for families affected by ADHD the stress levels go even higher.
But what if it doesn't have to be this way?
Holiday stress and your brain
Dr. Braaten says holiday stress is a different type of stress from the day-to-day worries we confront. It's an acute reaction to an immediate threat—in this case, the cultural expectation to create a memorable holiday season. The brain's prefrontal cortex, the seat of executive function, is in overdrive, trying to organize and keep track of multiple responsibilities and a changing environment.
Meeting these seasonal demands requires constant updating or shifting of cognitive strategies, which Dr. Braaten calls "shifting set." Success depends on being able to shift set quickly, a skill that is hard when you have ADHD.
"The tough part," says Dr. Braaten, "is that shifting set, which can be hard for us at any point in the year, is particularly pervasive at the holidays."
Creating a better holiday
"There's a lot of cultural pressure during the holidays," says Ken Duckworth, MD, chief medical officer of the National Alliance on Mental Illness. "We tend to compare ourselves with these idealized notions of perfect families and perfect holidays."
Instead, Dr. Duckworth says to ask yourself if these are things that make you and your family happy. If they're not, let them go and create new traditions.
Just as importantly, schedule time that is just for you, or for you and your partner and immediate family, without outside expectations.
"Make sure to include self-care on your list of priorities," says HealthCentral writer Eileen Bailey. "Eat right, get enough sleep, and exercise each day. Take a few minutes each day as down time—sit quietly, listen to music, or take a walk. Caring for yourself will help you stay focused and give you the energy to accomplish more."
Ways to create a better holiday:
Accept that not everything will go as planned or as hoped, but that will be okay. There will be a few bumps in the road, plans that have to change, and events we need to accept as "good enough." By accepting things as they are, and practicing mindfulness in the process, we can enjoy things as they are.
Make what is important for you and your family a priority. Be guided by what means the most to you, not what will make someone else happy.
Manage the family, both your immediate family and extended family members. Plan breaks or schedule your time to leave before the symptoms cause a problem. If a relative questions your treatment choices, offer a firm reminder that those choices are not up for discussion. If they continue to cross your boundaries, you can leave the conversation or situation.
Acknowledge your own feelings and reach out for help when you need it. Reach out for help with planning events, wrapping gifts, or any item on your to-do list. And equally, if you feel overwhelmed or sad for more than a few days, reach out to a professional for support.
Outsource or schedule for later. Have the dinner catered. Put any to-do items that can wait on next year's calendar. Now is not the time to get everything done by yourself, especially when your executive functioning is already overtasked.
The best present is to be present
Five years from now, you won't wish that you spent more time cleaning the house. Take a holiday from the smaller details of life and instead light the candles, eat the cookies, sing songs with the family and friends, and take part in the moment.
"The holidays are just another time of year," Dr. Braaten reminds us, "certainly something to mark, but not the end-all, be-all."
More ways to make this your holiday: