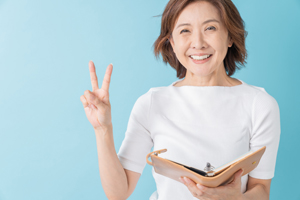 Life with ADHD can get better. For many adults, midlife is a time to thrive, when their symptoms are well managed. Adopting new tools and skills, and reaching the point where their use is part of daily life, plays a big role in improving ADHD symptoms.
New technologies and specialized strategies can help you stay on top of your to-do lists, get organized, and better manage common ADHD challenges. But if you find day-to-day tasks cause you anxiety, increase your procrastination, or sap your motivation, you're not alone.
The key is not to let past mistakes keep you down, says Dale Davison MEd, PCC, BCC, an ADHD coach in the Chicago area. Middle-aged adults can often feel overwhelmed with self-blame and shame from their past failures. Instead, she says, shift your focus from past defeats to what you can do.
"Experiment to see what works," Ms. Davison says. "Change those prompts when one of them becomes stale and no longer works. When you find one that works, use it until it's a solid habit."
Flipping your own perspective can help you notice the things you do well and what techniques and strategies work best for you.
Planning to thrive
Focus on the future by planning your day ahead of time, advises Ms. Davison. This can help you see not only what you need to get done but what obstacles may come up. Use paper calendars and planners, digital calendars like those that come preloaded on smartphones, or apps like Productive.
Voted one of the best free apps for ADHD, Productive lets you schedule your day and tracks how many items you've completed. When you first sign up, you'll be asked to answer questions like whether or not you have trouble with procrastination, find it hard to focus, and what you expect the app to do for you. It then develops a personalized plan based on your responses.
There are many other popular apps, like Todoist, Asana, and Trello, that can help you plan your day, get organized, and keep track of your to-do list. Finding one that works best for you is key. If one type of calendar or app or strategy doesn't work for you, don't get discouraged; try different planning calendar formats or strategies.
In addition to apps, there are many low-tech strategies that can help you with planning. A whiteboard or large poster board can be a useful way to visualize what needs to get done. Keep your goals in sight by putting labeled sticky notes on your whiteboard to track items you need to complete along with tasks you've already accomplished.
Procrastination: Losing time you wanted to use better
Ever feel like it is difficult to get a handle on how much time you spend on tangents? Many adults with ADHD point to their smartphones as a major cause of their procrastination. To help you stay on track, try turning off your phone, putting it in "do not disturb" mode, and using built-in app timers or app blocking settings. Another way to reduce procrastination is to schedule it into your day. You're more likely to get back on track if you allow yourself a few minutes to shift your focus. It may be helpful to track how much time you spend off task each day. This can help you identify triggers so you can adjust your schedule.
"Taming the procrastination beast begins with breaking things down into small enough chunks so they don't feel daunting to do," says Sharon Saline, PsyD, a clinical psychologist.
If you have a large project to complete, break it down into smaller steps and determine how long you need to complete each step.
"If you break a task down and you still can't start, then it's not little enough," Dr. Saline says. "Make it smaller."
Some adults find timers useful in managing their days.
"People find success with the Time Timer and other brands," says Ms. Davison. "Set it for ten minutes to get activated, set it for thirty minutes to stay motivated with a rewarding 'I got this thing done' when the timer beeps." The Time Timer comes in three sizes and allows you to set the amount of time you plan to work on a project. Time reminders can help you stay focused and provide a visual cue of how much time you have left to work on a task until a break or reward. You can also use a kitchen timer, an analog clock, watch timers, and free digital or smartphone timers. Again, the key is finding the time management tool that works best for you.
Additional help
You may find an ADHD coach helpful if you are still struggling. ADHD coaches can help you overcome difficulty with motivation, follow through, organization, and working memory.
Ms. Davison says she thinks of the benefits of coaching as a way for someone "to unlearn—to look at their lives and specific behaviors in a new way. To notice what's working and to challenge the 'I can't' thoughts and behaviors, and then create awareness of their inherent strengths that will enable them to imagine making different choices."
Read more:
Join the discussion: How has life improved for you after 35?