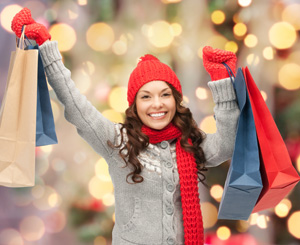 The gift-giving season has begun. And for every gift, there is a gift-giver trying to balance thoughtfulness, how much to spend, and how much time is available before the holiday. Combined with the tendency toward impulsivity, shopping can become a financial hazard during the holiday season for someone who has ADHD.
"Holiday spending is a total minefield," says Ari Tuckman, PsyD, MBA, who counsels adults on ADHD management. "So, go in with a plan so you don't hit too many of them. And if you do, cut yourself some slack and then just move on."
Be alert to holiday marketing
Many marketing approaches, especially advertising and promotional sales, are intended to prompt people to overspend and to overspend very quickly in a situation, Dr. Tuckman says.
"There are a lot of people paid a lot of money to design campaigns to pull people in to spend a lot of money. The cards are kind of stacked against us as consumers," he says. "We're hit with so many advertising messages, it's all a way to get us to act without considering, which is basically impulsivity."
To counteract the messaging that pushes you toward impulsive spending, Dr. Tuckman advises managing your environment. This includes what you read online and see in advertising, but also where and when you choose to shop. For some people, that may also include the method you use for spending, whether you use cash, debit, or credit cards.
"It's much more effective to manage what you expose yourself to than to tell yourself I will do that better thing in the moment," he says. "Bad situations make bad choices that much more likely."
Treat gift giving as a project
"Treat gift giving like a project," says Marla Cummins, an ADHD coach. She is the author of ADD to Done: Beyond Stuck, Procrastination and Overwhelm.
"It's a big project," she says, "and a lot of adults with ADHD get stuck thinking, 'I've got to get a gift,' 'I have to think about getting a gift,' or 'I should start thinking about getting a gift.'"
Let your gift ideas percolate a while before acting on them, Ms. Cummins suggests.
"Set aside time well in advance to plant the seeds and let things simmer," she says. "That way, when you're out walking the dog or doing things around the house, things will pop to mind."
Make a gift-giving plan
Write your to-do list first, Ms. Cummins suggests. Write down the names of everyone on your gift list. Choose whichever format is best for you, whether that's a piece of paper, an app, a notes program on your phone, or something else that works for you, and keep the list somewhere that you can easily find it.
Consider your budget. How much do you have to spend? If it's a holiday when you'll do all your gift giving at one time, start with your total amount available to spend without going into debt or using credit cards. That is your upper limit and the amount you have to stay within for your budget. If you plan to make some or all of your gifts yourself, include how much you need to spend on supplies when budgeting within your upper limit.
Calculate a per-person spending limit and make sure the total amount is under your upper limit.
Write down ideas that fit your budget for gifts you want to buy or make for each person on your list. That can sometimes be difficult, especially if you're someone who gets ideas by wandering around stores or scrolling through Etsy, Amazon, or other favorite websites. But write down any ideas you do have in mind, just as a reference for later.
Time to go shopping
"It's better to set aside a little bit of time and say okay, I'm going to spend maybe 45 minutes at several sittings," says Ms. Cummins. "Otherwise, you could go into hyperfocus, and then you get so focused on one gift" that you spend way too long searching for it. Or, you might get so distracted you end up buying nothing. Ms. Cummins is a fan of online shopping for that very reason—it's easier to get on the computer and type in exactly what you're looking for, find it, and buy it.
But anyone who has ever gone shopping online knows how easy it can be to go down a rabbit hole of interesting choices and pop-up ads.
That's when Ms. Cummins says you need to rely on your list—and a timer can help. Use your watch, the timer on your phone, or find one online. Set the timer and shop for 25 minutes and then take a break for 25 minutes. It's the same in a brick-and-mortar store—take a break outside the store to rest and review your list.
Getting it done
Buyer's remorse is common, especially among people with ADHD, "because there's always more, better, different."
"But remember what the objective is: it's just to let someone know that you're thinking of them," Ms. Cummins advises. Ask for a gift receipt and include it with each present. It won't show the price but can be used if the person decides to exchange or return the item.
Keep the spirit of the holiday season in mind and let that be your guide. "It's important to shut down the need to get the perfect gift. If you think enough in advance, you'll probably—for most people—be able to get something that you think they would really like," she says. And if all else fails, you can never go wrong with a gift card.
Looking for more?
Join the discussion: How do you budget for holiday spending?