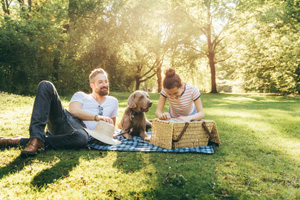 Are you ready to ease into summer?
For adults with ADHD, summer can mean a break from routines and a chance to spent time relaxing. With the current health crisis, making those plans can take a few extra steps, especially if you're thinking about a meal with friends or a getaway weekend.
ADHD symptoms such as impulsivity and impatience, along with co-occurring sensory issues, can add more preparation to your summer planning. It's important to be aware of what you need to do to help prevent the spread of COVID-19 and how those recommendations can compete with managing ADHD.
Enjoying the summer
Most public health authorities recommend staying at home as much as possible. Outdoor activities at home or in local parks are great options if they are available to you. Small gatherings, such as one other household group visiting in the backyard or at a park, are considered low risk if social distancing can be maintained. Sharing a swimming pool is considered to be lower risk because of disinfectants commonly used in the water. Going for a walk or a picnic at the park can also be good options for spending time with others.
"I encourage everyone to spend more time outside as long as they plan in advance," says Humberto Choi, MD, a pulmonologist at Cleveland Clinic in Ohio. "Consider the place you want to go, when it will be the least crowded, and take the best measures you can to stay safe while outdoors, including wearing a face covering when needed and practicing social distancing."
If face coverings or masks present sensory issues, take this into account when making your plans. Perhaps a picnic or having food delivered are better options than outdoor dining where face coverings are required. Likewise, hiking, bike riding, a day at the beach, and other outdoor activities that don't require face coverings would be better choices than indoor ones that do.
The warmer weather is an ideal time to be outside, not only for socializing but because research has shown that greenspaces can help reduce ADHD symptoms for some people in addition to other health benefits.
"Being close to nature is good for you, and I encourage everyone to do that," says Dr. Choi.
Finding options that work for you
Summertime might be the right time for a new hobby or projects around the home that keep you busy. It could also be the season that you plan day trips to local attractions, an option many people with ADHD find attractive because of the flexibility it affords.
Deciding to stay home or go out, and what to do in either choice, is very personal due the risks related to becoming sick with COVID-19. However, for the person who has ADHD, new and exciting situations are often big draws.
"We need to find sort of a middle ground" between staying home and going out for adventure, says Tara Kirk Sell, a professor and risk-communication researcher at the Johns Hopkins Center for Health Security. "That's a complicated dance, but it's also going to be what everyone needs to do going forward."
Kirk Sell says she is more comfortable with outdoor activities, but says people considering indoor ones should look at what type of ventilation and how close together people are while indoors. Her recommendation: Enjoy the sun and surf but skip the restaurant afterwards.
"If I'm outdoors, my level of concern really goes way down," Kirk Sell says.
Activities for summer relaxing
What are some ideas for an easy summer day?
Ideas for home:
Watch a good movie. Several video services have options for "watching with friends" or you can set up a video chat or phone call to watch a show together.
Spend time on the porch, patio, or out in the backyard. Reading a book or creating art can be relaxing ways to spend an afternoon.
Eat dinner together. Plan a romantic or fun dinner with your partner or family. Cooking together can be fun and helps to strength relationships. Take the dinner outside or on the porch for a change of pace.
Go camping in the backyard. Whether it's day camping on a blanket under a tree or in a tent overnight, backyard camping is sure to make you feel young at heart this summer. Don't have a backyard? Your local park may provide day camping opportunities; check before you go.
Ideas for going out:
Enjoy outdoor dining. Check with your favorite restaurants for outdoor dining options. Another idea is to follow popular food trucks and food truck events.
Visit local tourist attractions. Especially if you go in the off hours or less frequented days. You'll have more time and space to explore while being able to more easily keep a social distance.
Go camping. Some state parks have started to accept reservations again and many private campgrounds are open. Cabins and tent sites are available. Camping offers the chance to visit a new location and create an adventure while remaining socially distant. Reserve America can help you find campgrounds that fit your budget.
Try agritourism—visit a farm or agricultural destination. Many farms have programs, events or even overnight stays available where you can learn more about your favorite foods and beverages or just have the chance to wake up on a farm. Often these locations offer picnic space and you can buy foods produced locally.
Looking for more ideas?
Join the discussion: How are you keeping safe during this unusual summer?