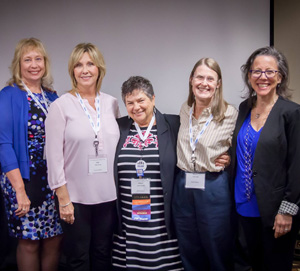 More than 1,000 members of the global ADHD community will convene today through Saturday for the 2020 Virtual International Conference on ADHD. This premier event, hosted by three leading nonprofit organizations—CHADD, the Attention Deficit Disorder Association, and the ADHD Coaches Organization—delivers three days of ADHD-focused science, education, and essential information.
There will be online sessions for adults with ADHD, parents and caregivers of children with ADHD, along with specialized sessions for educators, mental health clinicians, coaches, advocates, and medical professionals who diagnose and treat patients with ADHD.
With "Strong Minds, Healthy Lives" as its theme, this year's conference will feature 60 general sessions and 20 ADHD Professional Institute workshops presented by renowned ADHD clinicians, researchers, and coaches; numerous peer-to-peer sessions, activities, and networking opportunities; a virtual exhibit hall; a talent show; and much more.
"Our 2020 theme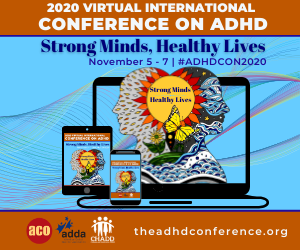 is based on cutting-edge research conducted by Russell A. Barkley, PhD, which clearly shows that untreated ADHD can have a significant negative impact on both mental and physical health, and ultimately, life expectancy," says Ari Tuckman, PsyD, CHADD Professional Expert and co-chair of the conference. "Little did we know when we began planning this conference a year ago that we would be living through a pandemic, making it all the more important for individuals with ADHD to live a healthy lifestyle. We hope the conference will provide participants with the practical strategies they need to navigate through these especially challenging times and live a longer, healthier life."
Featured keynote speakers include John Ratey, MD, associate clinical professor of psychiatry at Harvard Medical School, who will discuss "Using Exercise in the Treatment of ADHD" and Kathleen Nadeau, PhD, founder and clinical director of the Chesapeake Center for ADHD, on "How Lifestyle Determines our Future." The closing keynote address will be given by entertainer Sinbad, who will speak on "You, Me, and ADHD… A Day in the Life of One of America's Funniest Comedians."
Session topics include Living Well with ADHD; Supporting Children with ADHD at School and at Home; Adapting to Special Education in the Era of Distance Learning; Successful Transitioning to Adulthood: What Clinicians and Educators Can Do to Prevent or Remediate Failure to Launch; The Struggle Is Real: People of Color and ADHD; Mindfulness Training for Adults with ADHD; More Joy, Less Complication for Couples Impacted by ADHD; and many more. The complete agenda is available.
"While it's disappointing that we can't gather in person this year," says Dr. Tuckman, "we expect that holding the conference virtually will benefit the ADHD community in greater numbers, as this format presents a much more convenient and substantially less expensive way to attend. We've made sure to still build in several opportunities to interact with our speakers and other attendees, which is an important part of the conference experience. And most of the sessions will be made available to registrants for a full two weeks following the conference. We're really pleased to be able to enhance access and foster connections at an especially critical time in the ADHD community."
The conference begins today, but there is still time to register for sessions. For more information about the conference or to register, visit the 2020 Virtual International Conference on ADHD website.
Pictured above: The Volunteer Leadership Award winners during the 2017 annual conference, CHADD President Pat Hudak of CHADD of Northern Virginia and DC, Kelly Montes, Sharyn Rhodes, Sharon Bell, and Public Policy Committee member Elaine Taylor-Klaus.