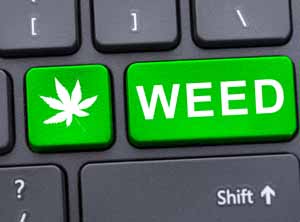 Question: In one of my social media groups, some members keep suggesting marijuana or CBD oil for ADHD symptoms. I've heard mixed things about this. Is it a good idea?
Answer: There continues to be an uptick in online comments regarding ADHD, marijuana, CBD oil, and other cannabis products. About a quarter of those comments surveyed by researchers claimed that cannabis was helpful for ADHD, and only a small number of commenters discouraged its use by adults who have ADHD symptoms.
This has some ADHD professionals and other researchers concerned. We don't have clinical evidence of cannabis products and marijuana that is smoked or in foods as a treatment or support for ADHD.
"General misinformation on marijuana use for ADHD abounds," says J. Russell Ramsay, PhD, co-director of the University of Pennsylvania's Adult ADHD Treatment and Research Program and a former member of CHADD's professional advisory board. "A study of online forum content over a decade (2004-2014) revealed widespread anecdotes and testimonials to the benefits of 'weed' for ADHD."
The idea that marijuana or cannabis products could be a possible intervention for ADHD has gained traction since 2006, he says, even as research studies continue to show no effect for improving ADHD symptoms specifically.
"The view of cannabis as having positive effects for ADHD has been … increasingly justified by the increasing endorsement of the benefits of medical marijuana and its availability as a 'natural' alternative," says Dr. Ramsay.
Some people who prefer to use alternative health interventions or would like to delay the use of prescribed medications will often try those approaches first or instead of clinically proven treatments. While some supplements or alternative approaches provide small results or are harmless, others can actually cause harm, either directly or indirectly from delayed treatment.
Is CBD oil a better approach? Maybe not
Many online posts also suggest CBD oil, a cannabis product, to address ADHD symptoms. There is clinical evidence it may be helpful for epilepsy and some types of anxiety when taken in a standardized form. The US Food and Drug Administration is considering a possible new medication made from CBD oil for seizure disorders, but it does not have approval at this time.
When it comes to CBD use and ADHD, there is not the evidence that this is a helpful intervention or support.
"This interest in CBD is coming out more broadly in these perceptions of a lack of harmfulness and the changing perceptions of marijuana use in general," says John Mitchell, PhD, a researcher at the Duke University ADHD Program. "For a lot of different disorders—PTSD, ASD, some addictions—[some people] are interested because it might have therapeutic effects when you isolate the CBD. But those studies are preliminary. When you look at the published literature on CBD there's nothing—it's limited to one study."
Regarding ADHD management or treatment, the science for use of CBD oil is not there.
"There have been no treatment studies," he says. "There are no randomized trials that show it works."
He adds that CBD products are not regulated and generally lack third-party verification regarding manufacture and purity. Some CBD products have been found to contain THC, the chemical that creates the sense of euphoria that comes from using marijuana.
"These are unregulated products," Dr. Mitchell says. "If these are not well-regulated products, how do we know that we're really getting what's being advertised?"
Tune out online voices and stick with the experts
Listening to your ADHD professional and following recommendations from experts is still your best course of action for making treatment plans.
"As it stands now, however, there is no empirical support for use of medical marijuana for the symptoms of ADHD," says Dr. Ramsay.
Learn more about marijuana, CBD oil, and ADHD:
Join the discussion: Some people include cannabis products in their supports for ADHD. Do you think it helps? Do you think it causes harm?