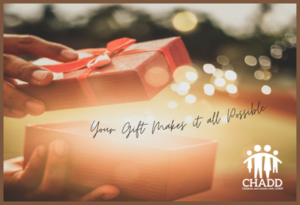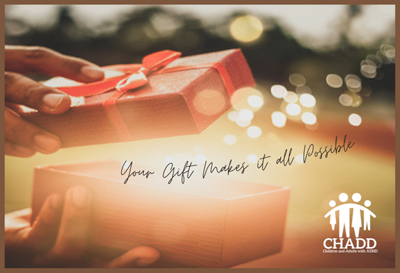 This past year has been challenging for all of us in so many ways. For those of us with diagnosed or undiagnosed ADHD, it has been especially challenging.
You might not know it, but the fidgety woman standing next to you in line at the grocery store, the little boy in the classroom who raises his hand repeatedly each time a question is asked, and the spouse who frequently interrupts everyone during family gatherings, may have undiagnosed ADHD. ADHD is one of those diagnoses that many families don't think about until something serious occurs. It's a disorder that's misunderstood by many communities.
You do have the ability to help your neighbor in the grocery store, your child's classmate, and even your own spouse through your support of CHADD. When you donate to CHADD, your contribution helps make the world a better place. It sounds like a cliché, but it's true. Often people with undiagnosed ADHD misunderstand themselves and their situations. CHADD's mission is to improve the lives of all people with ADHD. We're here to continue to spread the word, to touch and reach as many people as possible with the facts about ADHD and ADHD treatments.
As you can imagine, those needing CHADD's help increased significantly since the COVID-19 pandemic took hold in March 2020. CHADD's website received more than 7 million visits in the past year alone, while our helpline received thousands of calls and our parent and adult training courses educated hundreds of participants. Several thousand people became new CHADD members and even more follow us on social media. We know we can do more with your help.
How do your donated funds help others?
Provide webinars for parents, educators, adults, and professionals
Create courses for parents, professionals, and adults with ADHD
Support and distribute resources to local CHADD chapters across the USA
Help support research on the causes, diagnosis, and treatment of ADHD
Provide scholarships for financially challenged families to learn more about ADHD through parent training and membership
Your donation helps to make the world a better place!
Could you help us to continue to help others? Please consider making a donation—of any amount—today.