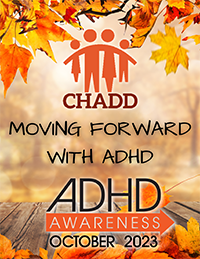 October is ADHD Awareness Month. CHADD is working with partners in the ADHD Awareness Month Coalition to educate people on the facts of ADHD—symptoms, diagnosis, and treatment—and to move the conversation on ADHD forward from the basics to the successes of those living with the condition.
Why is ADHD awareness important?
Comprised of CHADD, the Attention Deficit Disorder Association (ADDA), and ADHD Coaches Organization (ACO), the ADHD Awareness Month Coalition plans to present information, podcasts, and webinars to increase awareness while correcting common misconceptions about ADHD.
"ADHD Awareness Month gives us an opportunity to celebrate the progress we've made in ADHD education and advocacy, while understanding there is work that still needs to be done," says CHADD CEO Laurie Kulikosky, CAE. "We're working to raise awareness about the importance of early diagnosis and treatment to make life better for the members of the ADHD community. Without ADHD awareness, many children and adults will continue to struggle."
What is ADHD?
"ADHD has three components," says Max Wiznitzer, MD, a pediatric neurologist at Rainbow Babies & Children's Hospital in Cleveland, Ohio, and co-chair of CHADD's professional advisory board. "The first component is inattention. This is a broad category that includes poor organization, poor time management, forgetfulness, losing things, and the inability to finish tasks. The second component is overactivity. The third is impulsivity."
Sometimes, though, people may first be diagnosed and treated for a different condition—often one that co-occurs with ADHD, such as anxiety or depression—before they receive an accurate diagnosis of ADHD. A thorough evaluation for ADHD for an adult or a child can make a difference in creating a successful treatment plan. An ADHD diagnosis requires a comprehensive evaluation by an experienced professional who can assess signs and symptoms, rule out other causes, and determine the presence or absence of coexisting conditions.
"Always start with the underlying symptoms and stay open-minded regarding all the possibilities as to why a problem exists," says Dr. Wiznitzer.
Helping to spread awareness
CHADD is once again partnering with ACO and ADDA as the ADHD Awareness Month Coalition. Together, we are spreading awareness of how common it is to have ADHD—two out of twenty children, or about eight percent, and one out of twenty-five adults, or about four percent.
The ADHD Awareness Month Coalition is committed to educating people about ADHD by providing user-friendly information, addressing stigma, and empowering those with ADHD to minimize the impairments and challenges so they can unleash their strengths and create a life they love.
This year the coalition is working with organizations around the world with the shared global goal of dissemination of reliable information about ADHD and its treatments. Our international partners include CADDAC—Center for ADHD Awareness, Canada, and ADHD Europe. Together we are sharing information on ADHD and lifestyle supports.
"ADHD isn't just in the United States," says Roxanne Fouche, ADHD Awareness Month Coalition director. "It's seen all over the world."
A large role the coalition plays is to help people find ADHD information they can trust and support that meets their needs.
"It's really hard when you recognize that ADHD is part of the picture," says Fouche. "When you Google ADHD, it's like drinking out of a firehose. So our goal with ADHD Awareness Month is sharing reliable information based on the evidence of science and peer-reviewed research. The more that's known about ADHD, the more it helps everybody. It helps the people with ADHD and it helps the neurotypicals of this world to understand what is going on with this person they care about. It helps to reduce the stigma, and it helps people move forward towards getting the supports that they need."
During ADHD Awareness Month, you can visit and share CHADD's awareness page for information and tips on managing ADHD. You can check our social media posts throughout October and all year long at Facebook.com/CHADD.org and Instagram page with memes and graphics that you can share. This year, we've introduced our TikTok with brief videos and tips on ADHD.
Moving forward is the work of the ADHD community
"CHADD does not do its work alone," Kulikosky says. "A coalition is forming among all of us who work to improve the lives of people and their families affected by ADHD. Together we will provide individuals and families with the support they need to thrive. We will provide educators with the training they need to educate students who have ADHD and we will provide ADHD professionals with the information and guidance they need to support their patients or clients. As we go forward, we will provide the information and advocacy needed to end any trace of stigma surrounding ADHD."
As part of the growing coalition of ADHD community members, you can:
Print out the NRC fact sheets on ADHD and share them with your friends and community.
Get tips and resources on how you can increase awareness about ADHD.
Host an event promoting ADHD Awareness Month or local resources for ADHD and mental health.
Use your social media—Facebook, Twitter, Instagram, and other platforms—to share accurate information and positive memes on ADHD.
Register for the 2023 Annual International Conference on ADHD in November.
Join the Discussion: How are you helping to share information during ADHD Awareness Month?