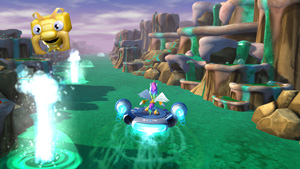 A prescription-only gaming system to improve attention has received marketing approval from the US Food and Drug Administration. The system, created by Akili Interactive and marketed under the brand name EndeavorRX, was highlighted at the 2017 Annual International Conference on ADHD.
"The EndeavorRx device offers a non-drug option for improving symptoms associated with ADHD in children and is an important example of the growing field of digital therapy and digital therapeutics," said Jeffrey Shuren, MD, JD, director of the FDA's Center for Devices and Radiological Health.
Game-based ADHD intervention
EndeavorRx uses Akili's selective stimulus management engine. This technology targets specific neural systems in the brain to address symptoms associated with brain-based conditions, such as ADHD. Designed to look and feel like a video game, the system then monitors the individual's progress and increases or modifies the gaming challenges to encourage improvement in game performance. As performance improves, studies show an increase in attention and a decrease of ADHD-related symptoms.
"In 2013, my research team and I published a paper in Nature testing the effectiveness of our game, Neuro-Racer," says Adam Gazzaley, MD, PhD. "The study demonstrated that we can improve cognitive abilities outside of those targeted in the game itself in older adults, like attention and working memory. This study gave birth to Akili. We filed a patent on the methodology, or 'active ingredients,' of the game, which [University of California, San Francisco] owns, and Akili has an exclusive license to this patent. Unlike some of the 'brain training' and 'brain games' on the market, Akili is developing direct treatments for medical conditions with digital medicine that is delivered through an action video game."
Neuro-Racer was demonstrated at the 2017 Conference on ADHD, hosted by CHADD and ADDA, during the conference's keynote address. The game has been further refined into the current EndeavorRx product. Dr. Gazzaley was later interviewed in Attention magazine to describe how a system that resembles a video game could be beneficial for children and adults affected by ADHD.
"The time is ripe for us to get creative and innovative in developing new treatments," Dr. Gazzaley says. "And we're hearing from families affected by ADHD that they are actively seeking new options. This could be a service to patients and families and to providers, providing them with more options to think about when treating someone."
Several studies of the gaming system for attentional difficulties were conducted before the system was submitted for FDA marketing approval. One study on the product under the working name of EVO was conducted at the Children's Hospital of Philadelphia.
"Our study showed that children engaged with the Project: EVO treatment for the recommended amount of time, and that parents and children reported high rates of satisfaction with the treatment," says Benjamin Yerys, PhD, a child psychologist at the hospital's Center for Autism Research and the study's first and corresponding author. "Based on the promising study results, we look forward to continuing to evaluate the potential for Project: EVO as a new treatment option for children with ASD and ADHD."
FDA approval for gamed-based ADHD treatment is a first
EndeavorRx is the first treatment option for ADHD of its kind approved for marketing. Akili Interactive is now working to bring it to the marketplace soon.
"We're proud to make history with the FDA's decision," says Eddie Martucci, PhD, chief executive officer of Akili. "With EndeavorRx, we're using technology to help treat a condition in an entirely new way as we directly target neurological function through medicine that feels like entertainment. Families are looking for new ways to help their children with ADHD. We're excited to offer families a first-of-its-kind non-drug treatment option and take an important first step toward our goal to help all people living with cognitive issues."
CHADD has followed the development of the EndeavorRX system with interest for its potential in the treatment of ADHD.
"We view EndeavorRx as one tool in what should be a multimodal treatment approach for children with ADHD," CHADD stated. "It has the utility, as prescribed by a physician, to potentially help children with ADHD improve their concentration skills and progress their learning abilities. The components of an effective multimodal treatment approach can include behavioral interventions, training, educational support, and medication, in a combination based on each individual's specific needs."
With this approval, Akili is now putting marketing and delivery of EndeavorRx into place. The system is not yet available but interested families can ask to be notified when it is.
"We're working to get the systems in place for a prescription, which we hope with be in the next couple or few months," says Julie DiCarlo, Akili's senior communications advisor. "Anyone interested can share their information with us at GetEndeavor.com and we'll notify them as soon as it's available."
Learn more about EndeavorRx and Akili Interactive:
Join the discussion: Would you be interested in a video therapy for ADHD?