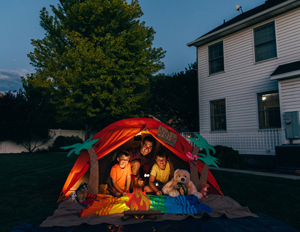 As the more relaxed summer months arrive, many parents of children with ADHD consider allowing them to take a break from their ADHD medication. Often called a "medication holiday," such a break would usually occur during the summer vacation or weekends when their child doesn't have homework. If you are considering a medication break for your child, it's important to talk with their doctor first.
"There really is no indication for drug holidays if you are trying to control ADHD symptoms and help a child develop good behaviors that will follow them the rest of their lives," says Max Wiznitzer, MD, a pediatric neurologist in the Neurologic Institute at University Hospitals Rainbow Babies and Children's Hospital in Cleveland. Dr. Wiznitzer is co-chair of CHADD's professional advisory board and a member of the editorial advisory board of Attention magazine.
Possible drawbacks to medication breaks
Parents might give their child a medication holiday during the summer or on weekends if she is experiencing mild side effects from the medications. This might include loss of appetite or headaches. Permitting a child with ADHD to go off medication for short periods to allow for weight gain or respite, says Dr. Wiznitzer, "doesn't help the child develop a tolerance for the medication."
"If you stop on the weekends, you basically start over on Monday," he says. A person's body adjusts to the medication over the course of the first few months and side effects can lessen or disappear after that time. However, if medication is taken during the week and stopped on the weekends, possible side effects are less likely to go away, says Dr. Wiznitzer.
Considerations before a medication holiday
There are several questions to think through before scheduling a medication holiday for a child or a teen. Consider how a medication holiday will affect them in terms of impairment and daily functioning:
Will your child be able to get through the day?
How well can she complete tasks and participate in family activities?
What about possible meltdowns, trouble controlling her emotions and behavior, or making poor decisions that result in an injury?
Some parents of children with the inattentive presentation pause medication during the summer because their child doesn't have academic demands. Dr. Wiznitzer warns parents to be prepared for symptoms to resurface and to consider what expectations they place on their child.
"Be realistic on non-medication days," he cautions. "It may backfire, so don't put too many demands on kids."
Many children with the inattentive presentation can be successful while off medication during the summer. Dr. Wiznitzer says that is due to a lack of academic demands and parents who have created good structure, routine, and consistency in their home, while helping their child develop good behaviors.
Be aware of safety and ADHD
If your child has the hyperactive/impulsive or combined presentation (hyperactive/impulsive and inattentive), medication breaks are especially not recommended, says Dr. Wiznitzer. Children who have severe ADHD symptoms, once off their medication, will revert back to the behaviors that were being treated. This can be concerning if they are impulsive and take risks when not taking medication, he says.
Considering a medication holiday for your teenager? Dr. Wiznitzer describes adolescent ADHD as a magnification of typical adolescent behaviors, which in and of itself can be quite challenging. Since the tween and teen years can be problematic, and ADHD symptoms can increase the pressures and stress on a child and their family, medication holidays are not recommended. Teenagers with the hyperactive/impulsive presentation can be behaviorally impulsive, antagonize their peers with issues of personal space, be verbally impulsive, and may be at risk for injuries because of poor decision-making, says Dr. Wiznitzer.
Scott, the father of a teenager with hyperactive/impulsive ADHD, says his son stays on his medication all year.
"It's a safety issue, which is why we don't allow breaks from medication during the summer months," Scott says. "His medication is like insulin. He needs it to be able to function and not take risks that will compromise his safety. As a child, he liked to climb things. We spent a lot of time at the ER and pediatrician's office for accidents. We would like him to avoid accidents and keep away from impulsive choices, like drug use and other risky teenage behavior, and one way we can do that is by keeping him on his medication all year long."
Consult your child's doctor first if you are thinking about a medication holiday. If a doctor approves, Dr. Wiznitzer advises that parents approach the break with an open mind.
"If a child is symptomatic during that time, they should do what is best for the child not only for today's functioning but tomorrow and the next day."
Interested in more on medication holidays?
Join the discussion: Has your family tried medication holidays? How did they work out for your child?