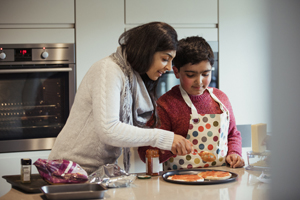 It can be challenging to determine whether your child is showing characteristics of either ADHD or autism, especially because the symptoms of both conditions sometimes overlap.
Recently, a study of children with autism or ADHD found that both groups had high levels of inattention, impulsivity, and hyperactivity. These similarities may be one of the reasons it is often difficult to distinguish between the two conditions.
For some families, adding to their concern is that additional stress from dealing with the pandemic can increase a child's hyperactivity and impulsive behaviors. Parents may notice behaviors they didn't see before. This is not unusual, says Adiaha Spinks-Franklin, MD, and not necessarily a cause for worry.
"All that bounces is not ADHD; all that flaps is not autism," Dr. Spinks-Franklin, a developmental behavioral pediatrician at Texas Children's Hospital, reassures parents.
If you are wondering whether your child has ADHD or ASD, she recommends that you look at the behaviors your child exhibited before the pandemic. Talk with your child's doctor if you have concerns.
Autism and ADHD compared
If your child's inattention and distractibility does raise to a level of concern, an evaluation may be necessary to better understand what they are experiencing.
On the surface, ADHD and autism seem to have similarities, but a deeper comparison shows they are quite different developmental disorders. Autism spectrum disorder (ASD) is typically diagnosed in early childhood. If you think your child has ASD, look for signs that they are having social interaction and communication difficulties, not just repetitive behaviors or restrictive interests. Other indications are when your child is taking longer to reach developmental milestones, generally has no response to you or other family members, or has difficulty making eye contact. If you notice these behaviors, discuss them with your child's medical practitioner.
A child with ASD can display ADHD-like symptoms. However, ADHD by itself is different. Your child may have ADHD if he talks nonstop, blurts out, has trouble sitting still, focusing, or paying attention. It was previously thought that a child could not have both ADHD and ASD, but the Diagnostic and Statistical Manual of Mental Disorders, 5th Edition, has recognized the experience of many people that these conditions do co-occur. About 14 percent of children with ADHD also have an ASD diagnosis.
Some children are misdiagnosed because of the overlap in symptoms. Even though both groups in the previous study had the same levels of inattention, hyperactivity, and impulsivity, the researchers found the key to better identification of ASD in children is to pay attention to other behaviors. To prevent a misdiagnosis, the researchers suggest more emphasis on "the importance of careful screening for social communication difficulties and RRBIs [restrictive, repetitive behaviors and interest] in children presenting with high levels of inattention and hyperactivity/impulsivity."
This may mean that if your child has communication difficulties and restrictive, repetitive behaviors, it's more likely the child has ASD rather than ADHD.
Medical specialists are now better screening for ASD and ADHD using patterns from the patient's information shared or observed during previous medical visits. A Duke University study found children who were later diagnosed with ASD or ADHD had more medical visits during their first year of life.
"We are hopeful that these early utilization patterns can eventually be combined with other sources of data… to help parents and pediatricians identify which kids will benefit most from early assessment and treatment," says Scott Kollins, PhD, one of the study authors.
"We know that children with ASD and ADHD often receive their diagnosis much later, missing out on the proven benefits that early interventions can bring," says Geraldine Dawson, PhD, who also contributed to the study. She is the director of the Duke Center for Autism and Brain Development and the Duke Institute for Brain Sciences.
Children diagnosed later in childhood with ASD had more specialty care visits for services such as physical therapy. Children diagnosed in later childhood with ADHD had more hospital and emergency room visits.
Receiving a proper diagnosis
The COVID-19 pandemic has further complicated getting a diagnosis for ADHD or ASD. Access to appropriate care and screenings has been delayed during stay-at-home orders that closed most businesses, including some medical practices, for part of 2020. There have been longer wait times to see a specialist, and job losses left some families unable to afford the cost.
Learn more about ADHD and autism:
Join the discussion: Have you ever asked a medical professional about ADHD and ASD concerning a child's development?