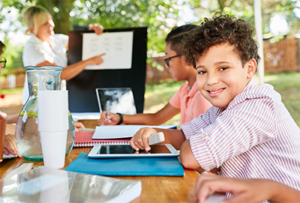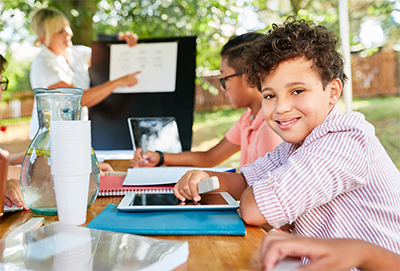 The school year has drawn to a close and students hope for a change of pace over the next few months. For some, that includes classes or school-based activities during the summer recess. But is summer school the best option for a child who has ADHD?
Why plan on summer school?
Some parents enroll their child in summer school to prevent an academic slide during the summer months or to allow the child to retake a class they struggled with. Although it can be a good option, summer school is often considered a punishment to the student for failing to master academic skills. Sometimes teachers or parents threaten students with summer school if they don't receive a certain grade or have trouble turning in assignments.
The experience of summer school doesn't have to be a negative one. Summer school can help a child re-learn skills for better mastery. It can also be a strategic move to free up a student's schedule during the academic year for other classes, including ones that may help them get into their preferred college. Summer school can also help with transitions, like when a student leaves elementary to enter middle school or goes from middle school to high school. Preparatory summer school can help kids who struggle with study skills, note-taking skills, or organization.
How do you know if summer school is right for your child? Here are some things to consider if you are thinking about signing your child up.
An individual approach
It's a good idea to consider the unique needs of your child before enrolling them in summer classes, says Elaine Taylor-Klaus, CPCC, PCC, a coach and author of Parenting ADHD Now! Easy Intervention Strategies to Empower Kids with ADHD.
"As with anything with ADHD kiddos, it's important to look at it on a case-by-case basis," she says. Some children with ADHD find school stressful and may look forward to the summer months to relax and unwind.
"Kids with ADHD are often creative and don't always have the opportunity during the school year to express that," she adds.
Summer can be that time where a child can express themselves through less academic and more creative or artistic pursuits, such as an art or theater class. The long summer break can also provide opportunities for field-based activities like studying geology at a local nature center. Finding what your child is good at and enjoys doing can help you decide what activities you'd like them to participate in during the summer months.
"We have to balance summer school with what else these kids need for growth and development," suggests Ms. Taylor-Klaus. "We need to play to what they are good at. The wins that come with summer balances the challenges that come with the school year."
Getting buy-in
If your child is required to retake a class, let them know as soon as possible. If they are in high school, make them part of the conversation or decision process, advises Ms. Taylor-Klaus.
"Having buy-in from your child is important and can help reduce any feelings they have of being out of control in the process," she says.
If there's buy-in, your child will be more interested in summer school or a summer program. For some students with ADHD, the chance to retake courses can present an opportunity to hone their skills without the added stress of taking multiple classes with multiple teachers. It can offer an opportunity to focus more in-depth on specific content areas in a way not available during the academic year.
Tiffany D. Sanders, PhD, knows that most kids will not be excited about attending summer school. A licensed psychologist and certified school psychologist, she acknowledges that it may be challenging for parents to convince their child of the benefits of summer school. To help with this, she suggests that parents change the narrative.
"Make it fun," says Dr. Sanders. "Treat it like they are going to school for the first time."
Often summer school is held in a different school building than the one with which your child is familiar. She recommends setting up a tour if your child will be going to summer school in an unfamiliar setting. Allowing your child time to get to know their building or classroom will help alleviate their concerns.
Most summer school schedules differ from the academic year, so students may have Fridays off, or only attend classes two or three days of the week. Dr. Sanders suggests parents plan engaging and fun activities for the days off. Not only does this give your child something to look forward to, it can also help with their buy-in. Reminding your child that summer school is not like regular school and that they won't be at school as long as a normal school day can also help if they are reluctant to attend.
Sometimes students are reluctant because their friends will not be at school. Having new and different people around can cause additional anxiety for some children. Parents can make sure they help their children gain skills they need to make new friends. Dr. Sanders recommends that you help your child develop some conversation starters or questions to ask when meeting people. This might help reduce their fears about making new friends.
Changing the language
Too often children view summer school as a punishment. Dr. Sanders believes parents can change that point of view. She recommends that parents introduce summer school in a way that shows its benefits. Talk about how the child will be getting ahead or will be well prepared going into the next school year, for example.
"Changing the language, in terms of positive language versus punishment for not making the grade, will help kids to enjoy summer school," says Dr. Sanders.
More ideas for this summer:
Join the discussion: Will your child be attending a summer school program? How are you making it a positive experience?