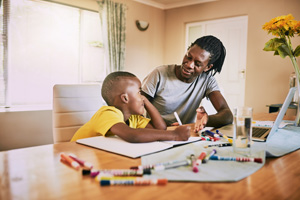 School is winding down, and for most students in the United States this year, it means the end of at-home learning.
Most school districts are currently crafting plans for when and how to bring students back on campuses. For students who have ADHD and academic accommodations, learning services may be affected by any new educational structure. If your child has a 504 plan or an IEP, now is the time to talk with the education team about what that academic plan may look like in the fall semester.
"As schools continue to manage the coronavirus, there may be situations where families and schools disagree," says educational attorney Andrew M.I. Lee. "Despite any differences, it's important to work together to make sure everyone stays safe and that kids get the services they need."
Meeting with the educational team
School campuses may be closed, but schools are not. You can meet with your child's educational team at this time. Federal law allows schools to use telephones and videoconferencing for academic plan meetings. Teachers and administrators are still available by email and telephone. Requests for meetings should be made in writing—that includes by email.
Ask the team what your child's school district is planning for education this fall and how the team plans to meet your child's needs, as written in the 504 Plan or IEP. If your child's accommodations or services were not met during the months of at-home learning, discuss compensatory services with the team.
"If services are missed, the US Department of Education says IEP teams must consider make-up or 'compensatory' services," Mr. Lee says.
If the school district plans to continue at-home learning or a combination of in-school and at-home learning, find out how that will affect your child. You and the education team should make changes to your child's academic plan now, before the school year begins.
Building on what works
If your child has been learning at home, critically examine what has worked for your child academically and where your child has struggled. Using that information, you can begin to prepare for next semester. That may mean requesting additional support from the school or creating new structures at home—study space, parent availability, or tutoring—that better support learning at home. The goal is always to build on what is working for your child.
Teachers and school districts will be doing the same during the summer months. Keeping in touch with your child's school, and if possible, his new teacher for next year, can help to prepare your family for the new semester. Teachers have also seen their roles change during this time but are working hard to make sure all their students have the opportunity to learn.
"The teacher's work transforms from a direct learning model to a coaching model," says Patti Sullivan-Kowalski, a senior director of student supports and special education. "The teacher now supports the families through the process of understanding school expectations and goals and objectives."
Educational rights have not changed
The novel coronavirus pandemic and abrupt closing of school campuses took school districts and families by surprise. Within a few weeks, the majority of school districts had switched to at-home learning. This switch came with some bumps and few academic bruises, but the laws regarding educational rights for students with ADHD did not change.
The US Department of Education issued a Q&A sheet for school districts to help them understand what their responsibilities to students with disabilities are at this time.
The Q&A specifically tells school districts that as long as they are offering at-home learning to students, they must also "make every effort to provide special education and related services to the child in accordance with the child's individualized education program (IEP) or, for students entitled to FAPE [a free and appropriate public education] under Section 504, consistent with a plan developed to meet the requirements of Section 504."
It also states that the school administrator responsible for ensuring students receive a free and appropriate education must individually determine if a student needs compensatory services because of the time spent learning off-campus.
Enjoy the summer, be ready for next school year
Most families look forward to the summer months as time to be together, and not to worry too much about the upcoming school year. Taking some time now to meet with the education team and update accommodations is important. Once the new school year begins, however it is structured, your child's academic plan will be ready to help him have a successful academic experience.
Resources for wrapping up the school year:
Join the discussion: What worked best for your child during at-home learning?