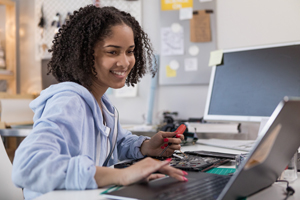 ADHD and Executive Functioning:
Setting Realistic Goals
Featuring Carey A. Heller, PsyD

Deficits in executive functions are interrelated to ADHD symptoms. Learn strategies to help with impaired executive functioning in children and teens. Although this is for parents, adults with ADHD will also benefit. Many of the strategies mentioned can be used by adults at home, school, and work.
How to Build Self-Motivation in Teens with ADHD
Featuring Margaret Sibley, PhD

Motivation can be a struggle for teens with ADHD. In school, this directly impacts a student's academic work. There are strategies teachers can use to help teens become more self-motived and self-directed. Dr. Sibley discusses situations such as relying on external rewards and consequences to motivate struggling teens and how to strike a balance between supporting teen independence and providing needed structure and assistance to a teen with ADHD. Teachers will leave better able to help increase student motivation.