Eight Tips for Successful ADHD Family Travel
by Dawn M. Barclay
For parents who believe that having children with invisible disabilities like ADHD and autism precludes them from traveling: take heart. Many special needs parents and travel advisors tell a different story. Those featured in Traveling Different: Vacation Strategies for Parents of the Anxious, the Inflexible, and the Neurodiverse recognize that vacations can be more than just something to survive. Rather, they offer opportunities to educate, bond, and create lifelong memories. Here are eight of their proven travel tips.
1Begin while they're young.
Michelle Zeihr, a Canadian from Barrie, Ontario, believes parents should start kids traveling as young as possible. That way, it comes naturally to them. She and her husband have two children, one being Thessaly, who has been diagnosed with high-functioning autism spectrum disorder (ASD) and ADHD. The Zeihrs started with small trips in their province when Thessaly was only five months old, introducing her to tent camping and a cabin stay. At nine months, they ventured further afield, taking a road trip across the border to Buffalo. "We wanted to see how she'd do in a hotel," says Michelle. At fourteen months, they took her on her first plane ride and "real" trip to Mexico. "We've traveled almost every year with her since, except 2020–2021, due to the pandemic."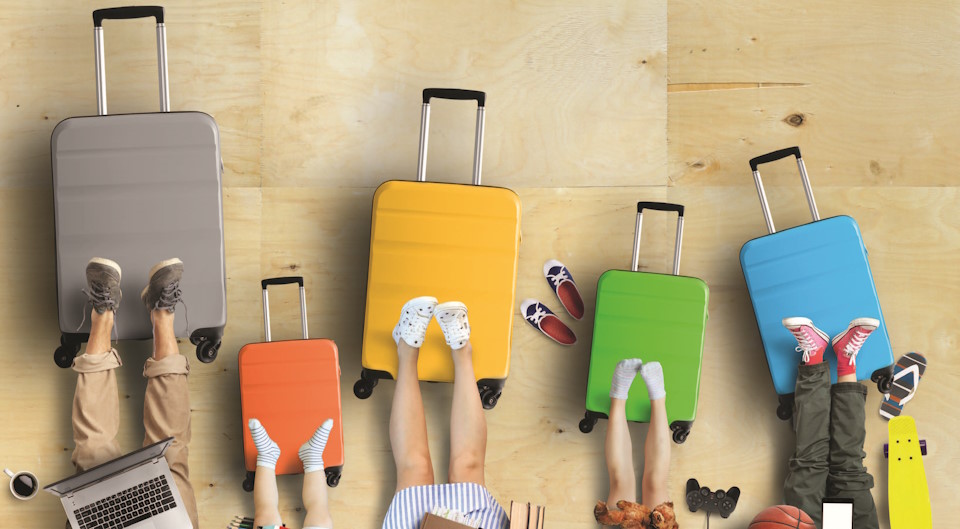 Likewise, Michelle Heubish of Smithtown, New York, has been traveling with her children since her oldest son, later diagnosed with ADHD and dyslexia, was one year old. Heubish believes that some parents with special needs children don't follow her lead because they "are afraid that their children can't do what others can. The truth is, while some experiences may need to be modified or certain aspects avoided, if given the opportunity, they can do almost anything neurotypical kids can do. For example, my son does not like loud noises so we need to bring headphones for him—that is a small modification but allows him to still enjoy experiences [he might have otherwise missed]," she says.
2Start small.
How can you introduce children to the concept of travel so, like these two globetrotting families, you too can go out and explore? Start small and slowly ramp up, say experts. "Start with trips to the grocery store. Then day trips. An overnight at a local hotel. A two-day road trip somewhere close by. A three-day stay at a theme park. A week-long trip that includes an airplane ride and new experiences," advises Nicole Thibault, a certified autism travel professional with Magic Storybook Travels in Fairport, New York.
Taking short trips using your own house or apartment as a base—a staycation—helps you save on transportation and housing costs when you're experimenting with travel on a smaller scale. It's also an opportunity to look at every local venue as a learning opportunity. For example, the zoo is a perfect outing for kids with autism, says Thibault. "There is a low chance for sensory overload, and you can walk around the exhibits at your own pace. You can bring your own snacks and drinks for those kids on special diets or with a limited food repertoire. And you can avoid areas that may be too overwhelming for your child."
Introducing travel on a local level can be as simple as reading timetables at a nearby train station or bus stop, visiting a nearby museum or farm, reframing a day of garage sale shopping as a scavenger hunt, apple picking at the neighborhood orchard, or even setting up a tent and sleeping bags in the backyard. It's a way to gradually bring new experiences into children's lives without disrupting their entire routine. Next, you might schedule an overnight at the home of a close and empathetic family member or friend. Experiencing the novelty of an unfamiliar sleeping space for a short stay can identify triggers and usher in the possibility of longer stays at hotels or vacation rentals with solutions in hand.
3Get kids involved.
Create a child-centric vacation that considers your child's abilities and interests, parents advise. Vet two or three potential destinations and then let the children make the final decision. (There can be no wrong answer because you've approved the choices in advance.) Similarly, encourage kids to pick out and pack their travel clothes and choose each day's itinerary (again, from a pre-approved set of choices.) This gives children a personal stake in the success of the vacation.
When scheduling, be careful not to crowd too much into any one day. Otherwise, you may end up navigating theme parks with a nine-year-old sleeping in a carrier on your back. Plan one or two stops per day and spend the afternoon in front of a television or by a pool to allow your child to decompress.
And why not take your child's special interests into account when planning the trip? If your child loves dinosaurs, for example, why not select a destination that features dinosaur trails and museums? Having something special to look forward to might make the more mundane parts of the vacation easier to bear.
Says one parent from Novi, Michigan: "We recently took a trip to Wisconsin to visit a water park. My husband happened to stumble across the National Mustard Museum, which was close by, and we were able to get our son to visit it because mustard is Ayden's favorite food. He loved going and he tells everyone about how we went there especially for him. He loves the memory."
4Do your research.
Heubish emphasizes the importance of doing your research before venturing out, something she learned the hard way: "What's hard with an ADHD child is that they are not very 'go with the flow' and don't get over things and move on easily. When we went to Disney World for a week, we did all four parks, character meals, you name it. He does not like rides that go upside down. Well, my sister told him that Rock n' Roller Coaster didn't go upside down. I had never been on it, and she hadn't been on it in twenty years. It was a ninety-second ride [that] went upside down… for maybe, ten seconds. A year later, he won't tell you about the eighty rides he loved, or how he had lunch with Mickey, or any of that. He will just tell you how we 'lied to him' and he hates Rock n' Roller Coaster and he's never going to Hollywood Studios again. There is no solving that—sometimes life throws you unexpected curve balls and you aren't ready. You don't get a color-coded itinerary for everything in life."
5Preview every aspect and more tips for smooth travels.
Having learned the importance of research, Heubish now previews every aspect of the vacation for her ADHD child in advance. "I call him the 'cruise director' because he will literally hop out of bed and say something like, 'What's the plan for today, Mommy?' So, I always give him an idea of what to expect. We've tried surprises and those result in stress."
Another of her tips is, when booking accommodations, "don't try to cram into a standard hotel room with two or three kids. [Having] the additional space is worth the extra few dollars; save money elsewhere."
And when exploring, Heubish says she avoids organized tours. "I make my own list of must-sees. That way, [if] we need to leave, we can do so without disturbing other people." When navigating restaurants, she determines what her kids want to eat beforehand via online menus and orders their food first to eliminate having them wait.  She also advises the importance of having access to some kind of kitchen or kitchenette while traveling. "Feed the kids at the hotel and allow them to order dessert while the adults eat dinner. This cuts down on the cost but also the waiting—ice cream takes five minutes while a meal takes much longer."
6Use an expert.
If all this sounds like a lot of work, it is—but there are certified autism travel professionals (CATPs) who can take the burden off your shoulders, no matter what your child's invisible disability. Many, like Nicole Thibault and Tara Woodbury of Escape into Travel in Leland, North Carolina, are both travel agents and parents of children with invisible disabilities. Woodbury studied for her CATP designation because "I was always interested in helping families with special needs and medical issues [like ours] travel more easily. My daughter has complex medical needs and ADHD, so traveling with her isn't easy. I have several friends whose children are on the spectrum; I knew they had some of the same needs and concerns as I did when traveling but also some vastly different needs. So, I wanted to learn everything I could to advise them." Hundreds of CATPs can be found on the IBCCES/Autism Travel website; thanks to video conferencing apps like Zoom, it's possible to book through them even if they're not in your backyard.
7Give yourself grace.
Even with advance planning, recognize that things still may go wrong—and prepare the child for this as well. "Travel is an adventure," says Dr. Ellen Littman, a New York–based clinical psychologist who works with children with both ADHD and ASD. "No one can predict or control what happens when they're traveling. [By communicating this,] children can then understand that even parents may not be pleased by everything [they encounter]. So. it's far less likely that there will be whining when [children] understand that no one in the family knows what's around the next corner; everyone is on an adventure of exploration and discovery."
8Recognize that the benefits outweigh the difficulties.
Heubish ignores those who tell her to wait until her kids are older to travel so it will be easier and they might remember more. "They may not remember it all—but my husband and I will. Some of my favorite memories of my children are from our travels. When you get away from home, you focus on where you are and who you are with—not the laundry, not the dishes, not the homework.
"Parents would be surprised at what their kids remember and get out of traveling. I have had many of my kids' teachers tell me about the connections they have made in school because of our travels. In class, when they [were discussing] the upcoming election, both of my boys remembered going to Washington, DC, and seeing the White House as well as some random facts like the president having his own bowling alley. The other thing is—and parents don't like to think about this—eventually your kids will get to their teenage years. They will have their own lives, sports, and girlfriends/boyfriends, and will not be able to (or want to) travel with you, so this is the time—enjoy it."
---
Dawn M. Barclay is a veteran travel reporter, the mother of two "challenging" children, and the author of Traveling Different: Vacation Strategies for Parents of the Anxious, the Inflexible, and the Neurodiverse (Rowman & Littlefield, 2022).
---
HELPFUL WEBSITES