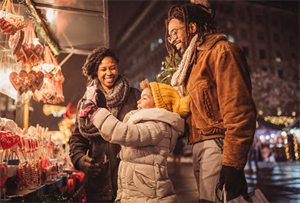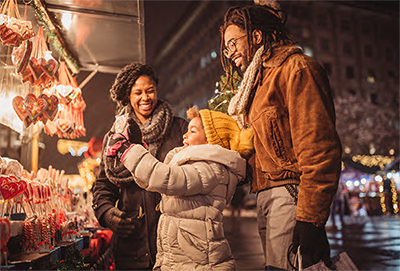 Mid-December is the height of the holiday season, with preparations for those who celebrate during this time of year in full swing. Children are excited about get-togethers and gifts they hope to receive, while many parents and family members may be anxious about those same gatherings and shopping for presents.
Families often look for ways to pare down and simplify the festivities to emphasize the aspects most important to them. When managing ADHD, either in children, yourself, or partner, these celebrations can bring additional levels of stress.
Enjoying the holidays with ADHD
"There has to be another way to approach the holiday season," writes Sharon Saline, PsyD. "I'd personally like to advocate emphasizing experiences over material gifts, creating meaningful holiday traditions with people we love, and volunteering to help those in need. Believe it or not, when we race around less, we limit the overwhelming feeling that can be especially debilitating for those with ADHD."
Discovering what means the most to your family and to you, and placing that toward the center of your celebrations, can help you craft holidays that are meaningful. This can mean limiting or declining activities or traditions that no longer meet your needs.
"If any kind of obligation makes you feel uneasy or stressed, it's okay to politely say, 'Thank you so much for thinking of me,' and decline," says Mindy R. Perry, LICSW, ADHD program director at LifeStance Health in Salmon Creek, Washington. "Even though it's the season of giving, you can still say no to things for which you don't have time."
Holiday hints from the experts
What old-fashioned hints, or tips, do experts and writers with lived experience have to share? Most will tell you the standby techniques of good self-care (enough sleep, eating well, keeping a routine, and following a treatment plan), but many offer additional ideas that focus on the particular needs of this season.
In most families, students will be home from school for at least a week. Relatives may visit, or your family may travel to visit them, bringing a higher level of excitement for children. This time of year often features day trips to local holiday parks or events and multiple parties. Planning ahead, so your child and you will know what to expect, is a holiday hint offered by many experts as well as other parents and adults who have ADHD. You can map out on a calendar both the events your family will engage in and the daily routine to follow during the time off from school or work.
"A predictable schedule, with realistic expectations, can make a big difference in managing daily functioning by focusing on one person or thing at a time," says Barbara Nosal, PhD, a licensed family and marriage therapist and chief clinical officer at Newport Healthcare in Pennsylvania.
Other helpful hints:
Simplify your days. This can include both taking shortcuts for some traditions—ordering dinner fully done by the local grocery store—and reducing the number of activities in a day by choosing only one big and one small activity. For example, schedule a big activity such as baking Christmas cookies with a small activity such as a family movie night. Lighting Hanukkah candles at a friends' home and sharing dinner could be your family's big activity, with wrapping gifts earlier in the day as the small activity.
Prioritize your family's needs, or your own, and set boundaries. If it's best for your family to celebrate in smaller ways, turning down invitations to parties or large get-togethers honors what is best for your family. Setting and keeping within a budget honors the bigger need of financially security. Choosing to attend or not attend a religious service, or choosing an earlier time for a service, allows you to continue your family's religious traditions while recognizing that earlier, nontraditional, or smaller services are easier for your family.
Focus on what is most important to you, not what others think. Take the time to reflect on what brought you joy or created special times for your children during other holidays and stick with that. You can change traditions, you can drop traditions, and you can create entirely new ones. Your holiday season does not have to look like anyone else's celebration.
"Take the time to acknowledge what's working more than what isn't so you can grow your own happiness and practice self-care during this busy time," Dr. Saline says. "By this time of the year, everyone is tired and feeling drained. Create a combination of activities for the holiday season that reflect a balance of energy and recovery."
Happy holidays
"The end of year seasonal holidays can be really exciting," blogger Jenn says. "Personally, I love Christmas, I love decorating and the creativity with that. I love buying gifts. I love all the foods and smells. But one thing I struggle with is the ongoing people time that comes with it."
Jenn recommends creating your schedule and setting boundaries before the holiday week begins. Having these ready for you can help make this time of year special and not overwhelming.
"You deserve wellness, and respecting your boundaries also means you are respecting others," she says. "Seek out support for these boundaries, too. Holidays shouldn't be about making others happy at your expense. Life in general shouldn't be like that either. Maybe now is the time to make that step for yourself?"
Ultimately, what your holiday looks like and feels like can be up to you. Finding and focusing on the things that are important and building in the activities that support you and your family, can be the foundation of a happy holiday and the beginning of a bright new year.
Looking for more holiday hints?
Join the discussion: What holiday tips would you offer our readers?