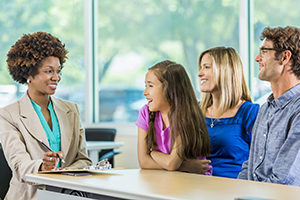 You've met with your child's teachers and school support staff and created a 504 plan. It's all smooth sailing now that accommodations are in place. Or is it? Surprisingly, in a CHADD survey on 504 plans and other accommodations, 66.4% of the parents who responded said their child's educational plans were not being followed. The survey also revealed that often the child was left with the responsibility of having to request accommodations, even though self-advocacy can be a challenge for students who have ADHD.
Parents said that many times a child's 504 plan wasn't followed because teachers either didn't know what a 504 plan was or hadn't even read the plan.
"Teachers refuse to comply with the 504," says a parent who participated in the survey. "We were actually told by the resource room coordinator that they all thought these were suggestions and optional, not required.
Considering these findings, how can parents make sure their child's 504 plan is being followed?
Education
"Section 504," says Jeffrey Katz, PhD, "is designed to meet the individual educational needs of students with disabilities, including ADHD, as adequately as the needs of students without disabilities.
Dr. Katz, a clinical psychologist in Virginia Beach, Virginia, serves on CHADD's board of directors and professional advisory board, and is co-chair of the public policy committee. Dr. Katz frequently attends school meetings to make sure that students with ADHD receive the support they need. The 504 plan is about what the school should do, he says, but often the responsibility to advocate for the child and make sure their educational plan is being followed falls to parents.
To make sure your child's 504 plan is being followed, it's a good idea to read about Section 504 and know what your child's rights are. Parents can read the regulations online or refer to the Parent and Educator Resource Guide to Section 504. You, as the parent, need to know what accommodations are included in your child's 504 plan, especially as updates and changes are made from year to year. That way you can keep track of your child's accommodations and whether they are being followed in the classroom.
Communication
If your child says that they have not received accommodations outlined in their 504 plan, you'll first want to talk with your child's teacher.
"The first few days of a new school year, my daughter was given a seat that wasn't close to the door and her teachers were not allowing her to wear headphones, both accommodations that are in her 504," says a parent of a middle school child with ADHD. "I had to email her teachers and send them a copy of her 504. After that, they've been good about providing her accommodations."
Like this parent, you can email or call your child's teacher and share with them your child's educational plan. Having a conversation about your child's 504 with their teachers early in the year can smooth any potential bumps along the way. In some school districts, information about incoming students' educational plans are not readily passed along to their new teachers. If your child's teacher is not responsive to your concerns, you can also contact the school principal or the school's 504 coordinator.
Usually, better communication with your child's teachers or other school staff can confirm your child's 504 is being properly followed. If for some reason the teachers or school refuse to provide accommodations in your child's 504 plan, you can contact your state's Parent Training and Information Center (PTI) for advice. Each state has at least one PTI who have staff that are knowledgeable about special education laws and who work with parents and schools to ensure children receive the accommodations they need. In addition to your state's PTI, consider contacting an educational advocate. Educational advocates work with parents to advocate for their children and often will go with parents to meetings at their child's school. The Council of Parent Attorneys and Advocates, a nonprofit, has a member directory that lists attorneys, advocates and related professionals who advocate on behalf of children with disabilities.
Filing a complaint
If the school is still not following your child's 504 plan after you contact your state's PTI or hire an advocate, you can file a complaint with the Office for Civil Rights in the Department of Education. To file a complaint, you can contact your state or regional Office of Civil Rights, or you can file a complaint online. Be aware that the review process can take several months or more. Some parents may choose to file a lawsuit, but this can be a costly and lengthy process. If you are considering filing a lawsuit due to the school's failure to follow your child's 504 plan, consult a disability rights attorney in your area.
Further reading:
Join the discussion: How have you pushed to have your child's 504 plan better followed?