CHADD Marks 30 Years Supporting the ADHD Community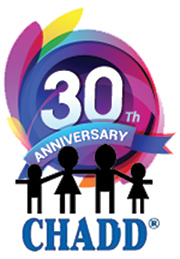 For the past 30 years, CHADD has been there for families affected by ADHD, offering support when they are struggling and providing science-based information on treatment options.
This week is the 2017 Annual International Conference on ADHD, presented this year in Atlanta, Georgia, with the Attention Deficit Disorder Association. The annual conference has been the largest gathering for families and adults affected by ADHD to hear directly from researchers, professionals, and authors on the latest science has to offer them. It's also a good time to meet and mingle with other members of the ADHD community—people who "get it."
The beginning of the journey
CHADD began with an informational meeting in 1987 in Plantation, Florida, hosted by Harvey Parker, PhD, Fran Gilman, and Carol Lerner. Together, they set the course for the formation of CHADD—then calling the organization "Children with Attention Deficit Disorder." In 1989, CHADD began its first major campaign to have ADHD included in education law under the Individuals with Disabilities Education Act (IDEA). In 1991, CHADD's efforts led to ADHD support under Section 504.
With these efforts, CHADD began to grow, spawning affiliated groups across the country. Groups specifically for adults affected by ADHD and other groups for their spouses and partners began meeting. Advocacy efforts on state levels and on Capitol Hill were undertaken. Attention magazine was launched, followed by CHADD's website. CHADD's National Resource Center on ADHD was begun, with support from the Centers for Disease Control and Prevention, as a national clearing house of science-based information, the first of its kind for ADHD. CHADD's name was updated to "Children and Adults with Attention Deficit/Hyperactivity Disorder" to better reflect the 17 million Americans affected by ADHD throughout their lives.
"In 1987, no one imagined the impact a small, dedicated group of people would have as they formed CHADD with the intent to provide support and to share information about attention deficit/hyperactivity disorder," former CHADD President Phyllis Anne Teeter Ellison, EdD, wrote to Attention magazine readers during the 20th Anniversary. "CHADD's purpose remains virtually the same today—parents and professionals working together. CHADD has become the nation's leading organization serving individuals with ADHD and their families."
The road onward with ADHD
Today, CHADD represents more than 12,000 members across the United States. It continues to provide support and information to the ADHD community, expanding its programs to include Parent to Parent: Family Training on ADHD, Teacher to Teacher: Supporting Students with ADHD, and the National Resource Center's ongoing Ask the Expert webinar series.
In recent years, CHADD has combined its two websites and expanded its online resources. It has worked closely with the US Education Department to make sure the educational rights and needs of students affected by ADHD continue being met by school districts. It has supported programs that work to prevent diversion of medication in high school and on college campuses. And it has worked with the FDA, manufacturers, and other government agencies to address shortages of medication for ADHD.
Last year, CHADD's National Resource Center on ADHD promoted information on the recommended treatment for young children affected by ADHD. It developed a new fact sheet, Preschoolers and ADHD, to provide parents with information on treating ADHD in young children.
"The circle of care for ADHD includes not only the child or adult with the disorder, but also those who care for him or her: parents, families, teachers, physicians, practitioners, and the community," says Leslie Kain, MBA, director of CHADD's National Resource Center on ADHD.
Looking forward to the future
Where will CHADD be in the next 30 years? Still meeting the needs of the ADHD community, regardless of how those needs may grow or change.
"We celebrate our birthday this year with recognition and recommitment to our community roots," says CHADD President Michael MacKay, JD, CPA, in Attention magazine's Winter 2017 "From the President" column. "CHADD has a renewed focus on forging community connections aimed at improving the lives of children and adults with ADHD."
Are you a CHADD member? What has your experience been as part of a nationwide movement to improve the lives of people affected by ADHD?
Interested in membership? Learn more at Membership or find a chapter near you.
CHADD began 30 years ago, as a group of parents and professionals working to help their young people affected by ADHD. Today it's a movement within the ADHD community, bringing support and science-based information to those who need it.