Annual 31st International
Conference on ADHD
2019 Conference | Philadelphia, PA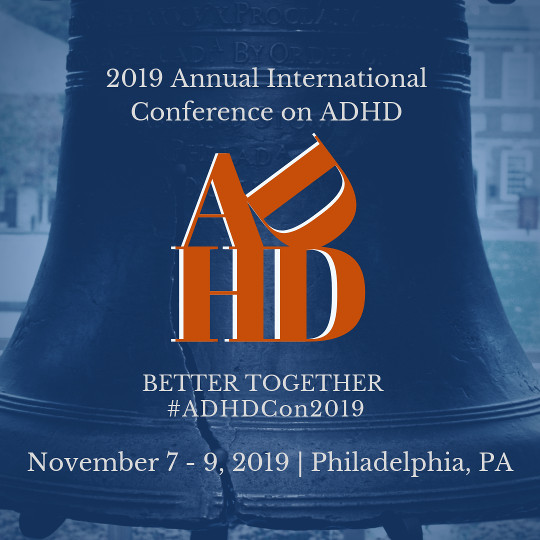 2019 Conference Welcome Letter
Philadelphia will be our host for this year's biggest conference on ADHD. How fitting that we will be in the City of Brotherly Love as CHADD, ADDA, and ACO once again come together to create a conference that brings together the best and the brightest.
Our theme of Better Together says it all. We strongly believe that our conference (and everyone impacted by ADHD) is better off when adults with ADHD, their romantic partners, parents of kids with ADHD, clinicians of all kinds, coaches, organizers, educators, and advocates gather together to learn from each other.
This conference will not only feed your mind, but also your soul, as you meet other kindred spirits. We have top-notch speakers and authors sharing their wisdom, but you will also benefit from all those conversations with fellow attendees sitting next to you, waiting in the coffee line, and wandering the exhibit hall.
The conference begins with the ADHD Professional Institute (API), which offers 24 one-hour sessions and six three-hour sessions geared for the coaches, therapists, organizers, and prescribers who work with clients and patients who have ADHD. You will deepen your understanding of theory and learn the most effective strategies—your clients or patients will benefit, but so will you as you return to work eager to apply what you have learned.
The general conference kicks off with a reception in the exhibit hall, where you can mingle with other attendees, see what is new and exciting from our exhibitors, and talk with the Innovative Programs exhibitors about what they are doing to improve the lives of those with ADHD. The always entertaining and insightful Tony Rostain, MD, will be our opening keynote speaker. We will reconvene in the morning for our second keynote with Ross Greene, PhD, whose collaborative model has changed how clinicians, educators, and parents think about dealing with difficult situations. We then have a day of breakout sessions full of wit and wisdom, strategies and explanations, laughs and a few tears. We guarantee that every time slot will have at least one session that you can't live without. We close out Friday night with ADDA's signature talent show, which was such a hit last year that it went way past its scheduled ending time. Whether you have a talent to share or just want to cheer along, this will be a fitting complement to the day's sessions.
On Saturday this year, we will begin with more breakout sessions and then close with our final keynote at the end of the afternoon. Philadelphia's own Maiken Scott from NPR station WHYY will interview Roberto Olivardia, PhD. He will discuss growing up with undiagnosed ADHD and how he thrived where others crashed. If you haven't heard Roberto yet, you will quickly figure out why he is the perfect closing keynoter. Finally, we will close on Saturday night with a celebration in honor of the twentieth anniversary of Penn's Adult ADHD Treatment and Research Program.
Check out the self-care, enrichment, and recreation activities. Scattered throughout all the speaker sessions, we have mixed in a variety of non-session activities: Meet Your Tribe icebreaker, mindfulness, walking groups, journaling groups, film screenings and discussion, peer support group meetups, women's unity lunch, twelve step meetings, coach speed dating, mindful coloring group, and more. Get tired of sitting still? No problem.
Philadelphia was the birthplace of our democracy, where a passionate group of big thinkers brought together their best ideas to create something radically new. Drawing inspiration from our forefathers, whether you're a first timer to our conference or an old hand, we hope you will find the experience revolutionary.
Past Conference Sessions Audio Recordings
Conference recordings from several past Annual International Conferences on ADHD are available for purchase online! If you missed out on any of these events, or want to revisit your favorite conference sessions, please select from the following events:
2018 Annual International Conference on ADHD