Share with Us Your Video Testimonial Of Your Conference Takeaways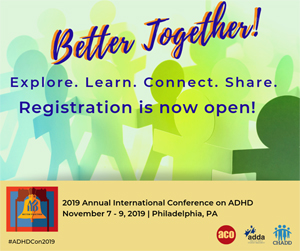 Because you've attended one or more of our conferences, we're inviting you to share your experience at the Annual International Conference on ADHD in a video testimonial. We'd love to hear your stories, your takeaways, your favorite speaker, your favorite hallway conversation, whatever you learned that had a positive impact in your life. Better yet, we'd love your willingness to share it with future conference attendees. Are you game?
Here is what we need from you:
Make a video lasting 2 minutes or less.
From the list below, pick one topic to discuss or question to answer:
My takeaway from the conference
My favorite session
What I would tell my friends about this conference?
My favorite thing about the conference
What I didn't expect that turned out to be amazing about the conference
Submit your video by the deadline: 11:59 PM on September 15, 2019.
Here are the rules for your video testimonial:
Videos selected will be used in email campaigns, on social media, and on our websites.
We reserve the right to use part or all of your video.
A committee will select the videos to be used as described.
Here is what you receive for submitting your video testimonial:
Everyone who submits a video will be entered into a drawing to win a free conference registration for the 2019 or 2020 conference (winner's choice). Free registration includes general conference admission only; all other costs will be covered by the winning participant.
Submit your video testimonial here.
WHAT SHOULD BE IN THE VIDEO:
Introduce yourself.
Speak on one topic or answer one question in the video.
All entries must be 2 minutes or less.
EXAMPLES:
"Hello, my name is __________, and I went to the (insert the year conference you attended) conference on ADHD ____________. My favorite session was____________ because_____________."
"My name is Jane. I went to the (insert the year you attended) conference because my daughter, who is in junior high school, has ADHD and I want to help her succeed. My favorite session was Fight, Flight, or Fib because it explained my child's behavior. This made such a big difference in how we relate."
TIPS:
Speak clearly and slowly.
Record your video in a quiet place with no background noise.
Be in the center of the screen and in focus. Be sure your face is well lit.
DISCLAIMERS:
If you submit a video testimonial to us using [this form / our testimonials form], then you agree that we may publish your testimonial, together with your name, on this website [and on any successor website that we may operate from time to time], on such page and in such position as we may determine in our sole discretion.
You further agree that we may edit the video testimonial and publish edited or partial versions of the testimonial. However, we will never edit a testimonial in such a way as to create a misleading impression of your views.
All submissions will be entered to win a free conference entrance to ADHDCon2019 or ADHDCon2020 (winner's choice).
The deadline to submit videos is September 15, 2019, at 11:59 PM.
Video Disclaimer:
The information contained in the multimedia content ("Video Content") posted represents the views and opinions of the original creators of such Video Content and does not necessarily represent the views or opinions of CHADD, ACO, and/or ADDA. The mere appearance of Video Content on the Site does not constitute an endorsement by CHADD, ACO, and or ADDA, or its affiliates of such Video Content.
The Video Content has been made available for informational and educational purposes only. CHADD, ACO, and/or ADDA do not make any representations or warranties with respect to the accuracy, applicability, fitness, or completeness of the Video Content. CHADD, ACO, and/or ADDA do not warrant the performance, effectiveness, or applicability of any sites listed or linked to in any Video Content.
The Video Content is not intended to be a substitute for professional medical advice, diagnosis, or treatment. Always seek the advice of your physician or other qualified health provider with any questions you may have regarding ADHD. Never disregard professional medical advice or delay in seeking it because of something you have read or seen on the site.
CHADD, ACO, and/or ADDA hereby disclaim any and all liability to any party for any direct, indirect, implied, punitive, special, incidental, or other consequential damages arising directly or indirectly from any use of the Video Content, which is provided as is, and without warranties.