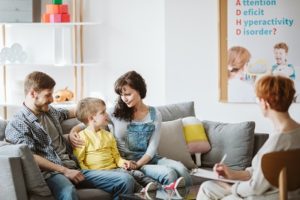 Everybody can have difficulty sitting still, paying attention or controlling impulsive behavior once in a while. For some people, however, the problems are so pervasive and persistent that they interfere with every aspect of their life: home, academic, social and work.
ADHD is a neurodevelopmental disorder affecting 11 percent of school-age children. Symptoms continue into adulthood in more than three-quarters of cases. ADHD is characterized by developmentally inappropriate levels of inattention, impulsivity and hyperactivity.
Find A CHADD Chapter
CHADD has a nationwide network of affiliated chapters. We encourage you to find a group in your area. This is the best way to connect with resources and find a local ADHD support group that you can share with.
We also have a number of resources for individuals who would like to form a chapter. We can help you setup your chapter and teach you how to grow your membership.
ADHD Awareness Month Campaign
ADHD is one of the most common mental health conditions affecting children and adults. But it is often misunderstood. ADHD Awareness Month's goal is to correct these misunderstandings and highlight the shared experiences of the ADHD community.
There is a saying: If you know one person with ADHD, then you know one person with ADHD. It means that everyone's experience with ADHD, its symptoms, and its effect on someone's life is different. It's also true that there are many common and shared experiences among the those who have ADHD that help to define us as a community.
This year, ADHD Awareness Month will highlight the shared experiences of children, adults, and families who have ADHD. The month-long video series "A Shared Experience" features experts in the fields of ADHD treatment, research, and family life sharing their knowledge on diagnosis, treatment, and lifestyle.
"ADHD awareness continues to grow around the world, but there's still a huge lack of understanding, a lot of misconception about what ADHD is and what it isn't," says Roxanne Fouché, director of the ADHD Awareness Month Coalition. "When you think about ADHD, it takes this huge toll on people's mental health, on their general well-being, on communication and relationships, on their social and family lives. The more that we can get the word out of what ADHD is, the more people can be assisted and helped, and it's good for everybody."
A shared experience
The ADHD coalition, comprised of CHADD, the ADHD Coaches Organization (ACO), and the Attention Deficit Disorder Association (ADDA) working alongside ADHD Europe, is sharing videos featuring leading ADHD experts and ADHD community members who have submitted their own video content. Videos will be shared throughout October on social media and on the ADHD Awareness Month website.
Among the featured experts is CHADD professional advisory board member Margaret H. Sibley, PhD Celebrating our shared experiences and supporting one another with evidence-based information, she says, is an important part of ADHD awareness.
"I think it's really important for the general public to empower themselves to verify things that they're learning online because a lot of times these stories are relatable," Dr. Sibley says. "They are being shared by people who truly have ADHD, but sometimes if you're not a professional, it's hard to tease out the parts of your life that are due to ADHD versus other things that you have going on."
"Every year, we spend October highlighting the experiences of people with ADHD, celebrating the unique stories and perspectives of the ADHD community, and educating the public about ADHD by fighting misinformation and lifting up real facts," says Patricia Hudak, president of CHADD's board of directors.
Also taking part in the video series are Ari Tuckman, PsyD, MBA, a clinical psychologist and co-chair of the planning committee for the 2022 Annual Conference on ADHD, Thomas E. Brown, PhD, a leading researcher and author on ADHD, and J. Faye Dixon, PhD, a clinical professor of psychiatry and behavioral sciences at UC MIND Institute who works directly with children who have ADHD and their families.
"We are very glad to have these outstanding speakers joining us this year," says Ms. Fouché.
ADHD on TikTok
For this year's series the ADHD Awareness Coalition ventured into the newer social media platform of TikTok. Many ADHD influencers have found a place on TikTok, along with teen and young adult members of the ADHD community. The coalition has been buildings its social media presence since the early days of Facebook. Since the ADHD community has found a place on TikTok, along with Twitter and Instagram, the ADHD Awareness Coalition is eager to join the community.
"No two people with ADHD are alike," says Ms. Fouché. "That's why we are encouraging our community members on TikTok and on more established social media to share their experiences with ADHD in video form. In addition to viewers' videos sharing their ADHD experiences, we will post the short videos with ADHD experts talking about the commonalities that they see in people's experiences on our TikTok page."
You can learn more about this year's video submissions at Express Yourself: Your Art, Stories, Memes, and Videos.
CHADD is the trusted source of information
CHADD has been raising awareness about ADHD since its beginning in 1987. Since then, through it many local chapters, award-winning Attention magazine, the National Resource Center on ADHD, and the annual international conference on ADHD, it has expanded the ways it can bring information and support to the ADHD community.
"We have the evidence-based information for ADHD," says Patricia Hudak, president of CHADD's board of directors. "It's reliable, it's credible. The ADHD professionals involved with CHADD are the best of the best in the world of ADHD. As home to the CDC-funded National Resource Center on ADHD, CHADD has the experts to review the science and provide easy-to-understand descriptions for parents, adults, teachers, and other caregivers. CHADD's National Resource Center provides information to the ADHD community through written resources, videos and podcasts. Its health information specialist team answer and return phones calls from community members seeking more information or a place to start when newly diagnosed with ADHD."
ADHD–Where Children Live Might Make a Difference for Diagnosis and Treatment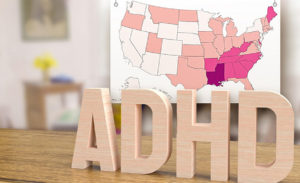 Many factors can influence whether a child receives a diagnosis and treatment for ADHD, including where the child lives. Learn what CDC is doing to understand differences in ADHD diagnosis and treatment.
ADHD Diagnosis and Treatment Can Vary by State
State-based Prevalence of ADHD Diagnosis and Treatment 2016-2019
State Profiles–Diagnosis and Medication Treatment for Children with ADHD
October is ADHD Awareness Month: Featuring the ADHD Awareness Coalition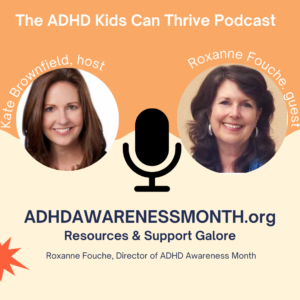 The ADHD Kids Can Thrive podcast discussed ADHD Awareness Month with ADHD Awareness Coalition Director Roxanne Fouche. Hear what she has to say about ADHD and how to make more people aware of ADHD and helping them move forward with the supports they need. CHADD, ACO, and ADDA make up the ADHD Awareness Coalition.

ADHD, Young Adults, and Their Parents
Featuring Dulce Torres
ADHD can have a profound affect on the relationships between parents and their children. Unmanaged, it can cause deep hurt. Dulce Torres discusses what parents and young adults can do to keep communication open and their relationship healthy as young adults move through their 20s.
Watch additional ADHD Awareness videos
ADHD Events Calendar
Find ADHD events on CHADD's events calendar.
Be An ADHD Advocate In Your Community
Advocacy begins in your own community. The CHADD Advocacy Manual can help you pursue ADHD issues in your community and raise awareness among local and state leaders.
ADHD Awareness Walk Toolkit
If you are interested in hosting your own event for ADHD Awareness Month, you can use our Walk Toolkit as a guide. While written with an in-person walk in mind, much of its information and helpful steps can be adapted for a virtual walk. Within it you will find information on: How to get started, Creating an event registration page, Promote your event, and much more.
Your local CHADD affiliate or group of friends may be interested in hosting a walk to support ADHD awareness, or as a fundraiser for CHADD.
The COVID-19 pandemic and health precautions needed to slow the spread of the virus mean that many activities, such as fundraiser walks, have needed to change. If you are interested in hosting a virtual walk for ADHD Awareness, here are a few ideas.
Select a date, week, or weekend for your virtual event. You can have participants keep a log of their walk or fun run.
Decide on your platform. There are websites available to help you plan your virtual walk, including these:
Other possible platforms to use:
You can also use a free website with ready-made templates to create your own informational website. A quick internet search for "free websites" should provide you with options to choose from that meet your needs.
Use your social media. Facebook events, Twitter, and Instagram are social media channels that can bring your participants together online to share information and excitement. Encourage participants to hashtag pictures of videos of themselves and family members walking for ADHD awareness. Ask them to post or send pictures to your social media or event page.
Follow up with your event participants. Celebrate their accomplishments on your social media. Send certificates and ribbons to acknowledge their participation in your event. Maintain an email list and send regular emails about your plans for future events.
Get Tips:
---
We would like to hear from you. Please take this short survey.
adult with ADHD
child/teen with ADHD
parent/caregiver of child/teen
parent of adult with ADHD
spouse/partner of adult with ADHD
family member of someone with ADHD
healthcare professional
teacher/educator
other professional
other
Asian/Pacific Islander
Black/African American
Hispanic/Latino
Native American
White/Caucasian
Other
Prefer not to answer
Strongly Agree
Agree
Neutral
Disagree
Strongly Disagree
participate in an ADHD awareness event
share information about ADHD Awareness events with someone else
use the information for a project or presentation
other
nothing specific
---
Thank you for your time! We value your feedback and will use it to improve our program.
Want to receive more information on ADHD and CHADD programs? Subscribe to our weekly mailing list.