CHADD is part of a social movement that seeks to shape the conversation on how society treats, accommodates, and views people affected by ADHD. Our movement is made up of countless people affected by ADHD, their families, teachers, friends, and leaders in the fields of ADHD research, education, and mental health. We realize the most effective way to accomplish our goals is through sustained and strategic outreach to policymakers on the state and federal levels.
We are making a difference for for families and adults affected ADHD. And we need your help! We want you to be equipped with information to make a difference in your own life, whether that means dealing with issues in the classroom, the boardroom, or your living room.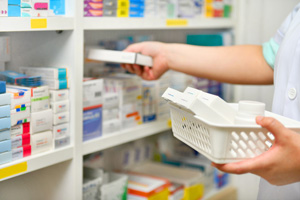 Tips on Handling the Medication Shortage From What to Do When You Can't Get the ADHD Medication You Want: If a family's local pharmacy does not have their ADHD medication of choice, they may consider contacting other local pharmacies. Many of the large retail pharmacy chains are able to check their computer system to see…
Developing Diagnosis and Treatment of Adult ADHD Guidelines: DaTAA Project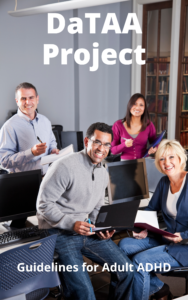 CHADD has received funds from a generous donor to sponsor and support the development of a United States national guidelines for the diagnosis and treatment of adult ADHD (Diagnosis and Treatment of Adult ADHD—the DaTAA Project). This milestone has been achieved due to the sustained efforts of our Public Policy Committee and builds on the committee's published recommendations emerging from a national CHADD summit held in 2019 (see "The Adverse Health Outcomes, Economic Burden, and Public Health Implications of Unmanaged ADHD," Journal of Attention Disorders, 2022 Apr;26(6):807-808).
The development of any new professional practice guideline is complex and requires the input of multiple organizations and stakeholders. Therefore, CHADD is now working actively to identify and enlist other major professional and advocacy organizations/stakeholders to guide and accomplish this objective. Further information on the DaTAA Project will be provided as available and during the Annual International Conference on ADHD in November 2022.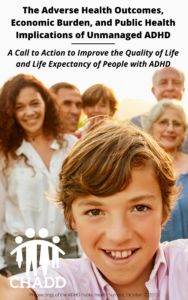 The Adverse Health Outcomes, Economic Burden, and Public Health Implications of Unmanaged Attention Deficit Hyperactivity Disorder (ADHD): A Call to Action to Improve the Quality of Life and Life Expectancy of People with ADHD
Proceedings of the ADHD Public Health Summit
Washington, DC
October 7, 2019
Presented by Children and Adults with Attention-Deficit/ Hyperactivity Disorder (CHADD)