ADHD Awareness Month Webinars & Podcast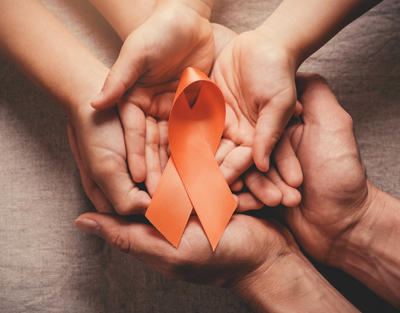 Embracing ADHD
Saturday, Oct. 16 | 9 AM CT (8 AM ET) | CHADD Midwest Regional Center

In honor of ADHD Awareness month, CHADD's Midwest Regional Center is hosting a free webinar, Embracing ADHD, on October 16th from 9am-3pm CDT.
Presentations include:
Myths and Realities of ADHD | Max Wiznitzer, pediatric neurologist, Rainbow Babies and Children's Hospital
Adult ADHD & Treatment Options | Ann Childress, MD, psychiatrist and APSARD President-Elect
Cognitive Behavioral Therapy for Adults | Arthur L. Robin, PhD, professor of Psychiatry at Wayne State University
Educational Accommodations for Children with ADHD | Karen Thompson, executive director of ASK Resource
Impact of Social Media Use on Mental Health among Young Adults: The Role of ADHD Symptoms |
Molly Nikolas, PhD, associate professor at University of Iowa
Managing ADHD and Tourette Syndrome at School, College, Work and in the Community
Tuesday, Oct. 19 | 7 PM ET | CHADD and the Tourette Association of America

Join CHADD and the Tourette Association of America for a collaborative webinar.
Gina and Noah Schlicksup will present on managing ADHD and Tourette Syndrome (TS) from a parent and teen perspective. Gina is also a special education teacher and will give tips on managing ADHD and TS at school. Sophie and Jeremy Didier will provide ADHD/TS management tips on college life, work, and socially in the community. In addition to resources from the TAA, CHADD will share resources, including a new resource on ADHD and TS.
Key Takeaways
Accessing resources to help better understand TS and ADHD can benefit you and others.
Understanding and support for executive function deficits
Time management and focusing tips for teens
Time management tips for young adults
Managing ADHD at work.
Women in Midlife and ADHD
Featuring Carol Ann Robbins, PhD

Many women struggle at midlife with undiagnosed and untreated ADHD complicated by hormonal changes. They typically report feeling overwhelmed, inadequate, misunderstood, and distressed at a time in their lives when they often have the greatest demands on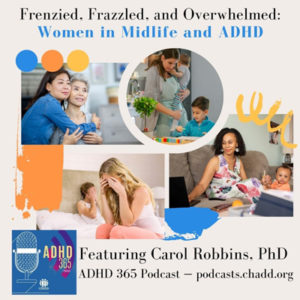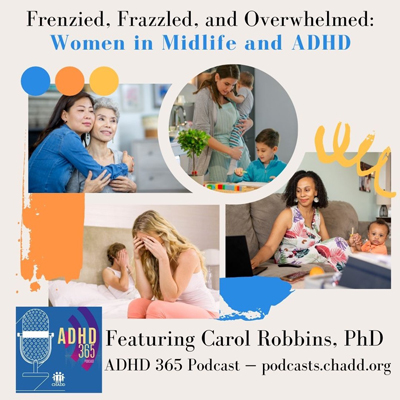 their time and energy. Women not diagnosed with ADHD until adulthood are more likely to suffer from depressive symptoms, anxiety, sleep disorders, eating disorders, substance use, and low self-esteem.
In this episode, Dr. Carol Robbins provides an understanding of the challenges women face in midlife with ADHD, coping strategies, and the importance of reaching out when help is needed.
Read more about women in midlife and ADHD.
Carol Ann Robbins, PhD, is a licensed clinical psychologist specializing in the diagnosis and treatment of ADHD across the lifespan. Dr. Robbins is a seasoned speaker, presenter, and author, as well as past president of the Maryland Psychological Association and coordinator of the MPA Post-Doctoral Institute on ADHD Across the Lifespan. She has served as coordinator of the Anne Arundel County chapter of CHADD since 2002.