Self-Care in 2018 Includes Using Your Calendar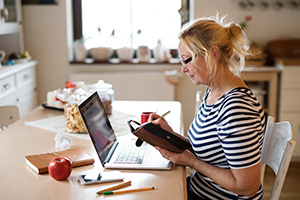 We're two weeks into the new year and you, like most people who have made New Year's resolutions, might have found your best intentions for turning over a new leaf beginning to falter. The good news is that you can start over again, as many times as you need to.
One of the most common resolutions for those affected by ADHD is to become more organized. Organizing your life by following a schedule posted on a calendar can be an important form of self-care when you have ADHD.
Self-care is when you pursue an activity that is intended to take care of your own well-being—your mental or physical health, your financial situation, your family's daily routine, or making sure that your own needs are provided for. Using a calendar or day planner can be an important part of self-care because it allows you to plan for your needs, schedule blocks of time for them, and create reminders and routines.
The simpler the design of the calendar or planner the better it is for the person coping with ADHD symptoms, says J. Russell Ramsay, PhD, an associate professor of Clinical Psychology at the University of Pennsylvania Perelman School of Medicine, and a member of CHADD's Professional Advisory Board.
"It's a very necessary tool—the planner or calendar—but it's really finding the right tool to match the different challenges you face," he says. "Generally, the one that is 'good enough' to fulfill all of your needs, regardless of the bells and whistle, is the right one for you. In fact, the bells and whistles can create problems that get in the way of the use of the actual tool."
Using your calendar for self-care
If you've put away your calendar or day planner, this is a good time to pick it back up and try again. Stores frequently put the current year's calendar on sale at this time, so if you don't like the one you bought last year, browse the local office supply, book store, or department store for a new one. Dr. Ramsay says that popular styles don't work for every person, so take your time to find the one that works best for you. You can even pick up two or three that look most promising for you and "test drive" them through the end of January.
Options include:
Large wall calendar: Everything goes in the day's square and you can check it at a glance in your kitchen or office. Using different colored pens to mark things down can also help you identify your priorities for the day.
Smartphone apps: Most smart phones come with a built-in calendar app. Combine it with a popular email service, and you can carry your calendar and to-do list anywhere, and have reminders automatically emailed to you.
Day planner, notebook or bullet journal: In varying sizes, this option keeps all of your information in one spot. Some versions have folders for tucking important information or paper with your calendar.
The key is to record upcoming appointments and to break apart larger projects with target dates for smaller components. Use your calendar or planner to write down your daily routine, making sure that it includes building in downtime for yourself or your family.
"Seeing downtime marked on the planner helps us make it through the day," Dr. Ramsay says. "It's a form of external motivation or a reward."
Planning downtime into your day
"I think it's important to have start times and stop times," Dr. Ramsay says. Too often, people affected by ADHD have difficulties with starting a new task. At the same time, when an activity is so interesting to them, it can be difficult to end the activity and move onto something else. The day planner or calendar with start and stop times for tasks can help with those transitions.
Dr. Ramsay says he often hears people argue against their own downtime, claiming there is too much that needs to get done. When you have ADHD, it's easy to go off task because of impulsivity or boredom with the task at hand. These symptoms can contribute to the feeling of falling behind in what needs to be accomplished.
In fact, he says people understand the need to recharge their cellphones better than they understand their own need to feel recharged.
"If our cellphone battery gets down to the last bar but we keep using it, it will go to empty and we have to recharge it regardless of what we need it for," he says. "It's the same for us. It takes a while to start to trust that—that I can take these breaks and recharge and do as much as I would have done otherwise, maybe even more."
Scheduling self-care includes blocking time for:
Enough sleep, including a regular bedtime marked on the daily schedule
Time for exercise, whether it's at a gym, yoga in the family room, or a walk around the block
Paying bills, cleaning the house, or running errands
Dates with your spouse or partner
Playtime with your children
Quiet time that is just yours—for meditation, reading a good book, creative arts, or simply going somewhere on your own
"These are self-care strategies," Dr. Ramsay say says. "If you take care of yourself, you can probably work better for the two hours you're on a task or running an errand."
Create your realistic plan
It can be very easy to imagine what an organized life might look like but hard to figure out how to achieve organization that works for you when you have ADHD. Often people affected by ADHD try to plan or schedule more activities or tasks than they can reasonably accomplish in the time they have available. The end result is feeling like they have failed at their goals, becoming more disorganized, and unfavorably comparing themselves to others they may know.
Being realistic regarding activities, tasks, how much time is needed, and how much time you actually have available is key to successfully planning and meeting your own needs.
"Be mindful when putting things in the calendar," Dr. Ramsay says. "Is it a realistic plan with clear steps, that are actionable or doable? Folks with ADHD might have to spend some extra effort defining their expectations when planning."
The popular acronym SMART can be helpful for your calendar or day planner when adding events or tasks:
Specific: Instead of writing "clean garage," instead add "sort through sports equipment," "clear off workbench," or "take cardboard boxes to recycling center." Mark down the goal or event that is targeted, breaking it into smaller doable components.
Measurable: Block time on your calendar or day planner for your event or task, even shading in the hours you need to accomplish the goal. As an example, shading in an hour for yoga or two hours for paying bills helps you see at a glance what your plan is and keeps you from double-booking yourself.
Achievable or Assignable: Is this an activity that can be completed at one time, or should it be broken into parts? Is this something that can be done by another family member, colleague, or someone you can hire? If so, add the name of the person who will tackle the task. You do not have to do everything yourself.
Realistic: This can be a tough goal for many people. How much time do you think a task or an event will require? Can you do more than one or two large, time-consuming tasks or events in a day? At what point in the day do you work best when it comes to that task or event? What are the other needs of your family? Answering these questions honestly can help you decide on what you can realistically accomplish in the time that is available, and what tasks or events should be scheduled on other days. Keep in mind, often people affected by ADHD have a difficulty in judging how long a task might take to accomplish, so adding extra time to your estimates can help you create a more realistic schedule.
Time-related: Not everything can or should be done right away. Break your tasks up and mark specific times for them to be accomplished. Also create your routine by deciding when certain things will be done—when will you have breakfast, leave for work, which days are for cleaning the kitchen and which days are for running errands. Also, mark target dates for finishing the components of projects and deadlines for finishing to-do list items.
How do you spend your time?
Dr. Ramsay compares the 24 hours in the day to having $24 in your wallet: How will you budget what you have to get the most bang for your buck?
"We underestimate the positive feeling associated with getting things done," he says. "There's a lot of different ways to choreograph our tasks to make them fit how we best operate."
Resources to help:
What are your tips for using a calendar or day planner?
Did you know that using your calendar or planner is a form of self-care? Using this tool helps you to break apart your to-do list into more manageable chunks and lets you plan in much-needed downtime and time with your family. We talked with an expert in ADHD on how to use your calendar to better take care of yourself when you are coping with the symptoms of ADHD.