CHADD is part of a social movement that seeks to shape the conversation on how society treats, accommodates, and views people affected by ADHD. Our movement is made up of countless people affected by ADHD, their families, teachers, friends, and leaders in the fields of ADHD research, education, and mental health. We realize the most effective way to accomplish our goals is through sustained and strategic outreach to policymakers on the state and federal levels.
We are making a difference for for families and adults affected ADHD. And we need your help! We want you to be equipped with information to make a difference in your own life, whether that means dealing with issues in the classroom, the boardroom, or your living room.
CHADD has become aware of state and local policies, including legislation and regulations, intended to address the misuse of opioids, but which may have unintended consequences for children and adults prescribed FDA-approved medications to treat attention deficit hyperactivity disorder (ADHD). Read the full statement.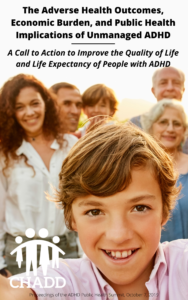 The Adverse Health Outcomes, Economic Burden, and Public Health Implications of Unmanaged Attention Deficit Hyperactivity Disorder (ADHD): A Call to Action to Improve the Quality of Life and Life Expectancy of People with ADHD
Proceedings of the ADHD Public Health Summit
Washington, DC
October 7, 2019
Presented by Children and Adults with Attention-Deficit/ Hyperactivity Disorder (CHADD)