CHADD is part of a social movement that seeks to shape the conversation on how society treats, accommodates, and views people affected by ADHD. Our movement is made up of countless people affected by ADHD, their families, teachers, friends, and leaders in the fields of ADHD research, education, and mental health. We realize the most effective way to accomplish our goals is through sustained and strategic outreach to policymakers on the state and federal levels.
We are making a difference for for families and adults affected ADHD. And we need your help! We want you to be equipped with information to make a difference in your own life, whether that means dealing with issues in the classroom, the boardroom, or your living room.
Medication Access Principles: CHADD ascribes to the following principles regarding access to medications indicated to treat attention deficit / hyperactivity disorder (ADHD). Medication is recognized by the scientific community as a primary treatment to effectively reduce the core symptoms of ADHD.[1] Given the stigma associated with ADHD and common misconceptions about treating the disorder, individuals…
The House of Representatives had been preparing to vote on the American Health Care Act (AHCA), which would repeal significant portions of the Affordable Care Act (ACA or "Obamacare") and replace them with alternative coverage policies. At this time, the House is not moving forward with a vote on the AHCA. Read our full report.
In September 2016, CHADD conducted a survey about health insurance coverage and attention deficit hyperactivity disorder (ADHD) in the United States. More than 1500 people from all 50 states and Washington, D.C. took part in the online survey and answered 15 anonymous questions about their personal experiences seeking access to services and medications for their,…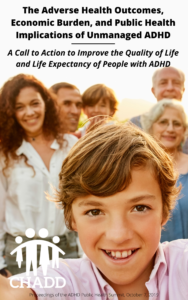 The Adverse Health Outcomes, Economic Burden, and Public Health Implications of Unmanaged Attention Deficit Hyperactivity Disorder (ADHD): A Call to Action to Improve the Quality of Life and Life Expectancy of People with ADHD
Proceedings of the ADHD Public Health Summit
Washington, DC
October 7, 2019
Presented by Children and Adults with Attention-Deficit/ Hyperactivity Disorder (CHADD)