A Month of Awareness and Empowerment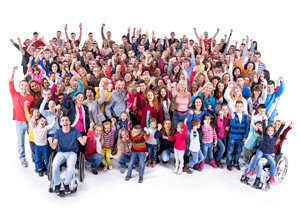 We all need reliable answers to life's important questions. When it comes to raising ADHD awareness around the world, October is the time to shine the light on those answers and help to improve the lives of people affected by ADHD.
This October CHADD joins with the ADHD Coaches Organization (ACO), Attention Deficit Disorder Association (ADDA), and ADHD Europe for ADHD Awareness Month. To increase awareness, the ADHD Coalition chose the theme "Common Questions: Reliable Answers."
ADHD experts around the world submitted their answers to the most common questions people have about ADHD, its treatment, and lifestyle supports. The questions, responses, and associated infographics will be posted on the ADHD Awareness Month website, Facebook page, and Twitter. New materials will be added each week throughout October.
"ADHD is a serious public health issue," says Roxanne Fouché, director of the ADHD Awareness Month Coalition. "October's ADHD Awareness Month is a great opportunity to share reliable information about ADHD in children and adults, as well as highlight comprehensive treatment options and available resources to live well with ADHD."
Getting reliable answers

"ADHD Awareness Month will highlight topics that often come up when discussing ADHD," says CHADD CEO Robert Cattoi. "At CHADD, we are committed to providing the latest evidence-based information. As home to the CDC-funded National Resource Center on ADHD, CHADD has the experts to review the science and provide easy-to-understand descriptions for parents, adults, teachers, and other caregivers. This month emphasizes the need for not just awareness, but also the need to act on the awareness and seek diagnosis and treatment. While there is no cure for ADHD, it is treatable at every age. During this time of school and work closures, it is even more important to ensure that everyone understands neurodiversity, and that those with ADHD are recognized and respected."
To address the most common questions about ADHD, the coalition -asked ADHD experts from many fields to offer answers based on research and medical science.
"Answering these questions helps to improve the public's understanding about ADHD and encourages individuals and families to pursue proven treatment options," says CHADD COO April Gower-Getz. "ADHD is one of the most studied brain-based conditions. Getting reliable answers helps people to make decisions that improve their lives."
ADHD Awareness Month is sponsored by leading organizations
CHADD, ACO, and ADDA represent the more than 17 million Americans affected by ADHD. Partnering with them this year is ADHD Europe, which advocates for the rights and dignities of people with ADHD throughout the European continent.
"We must bring awareness and reliable information about ADHD to the international community," Mr. Cattoi says. "We envision a world that empowers all people with ADHD, without judgment or stigma. A world where every person with ADHD is encouraged to use their strengths. Where all are free to ask for support and to seek appropriate treatment."
"ADDA is committed to ADHD awareness because we want to live in a world that values inclusion, embraces neurodiversity, and celebrates ADHD," says ADDA President Duane Gordon. "We're working to make it possible for adults with ADHD to thrive by providing online education and support in a welcoming and safe environment."
"The goal of ADHD Awareness Month is to raise awareness, provide reliable information, remove the stigma, and highlight the available supports that enable individuals and families to thrive with ADHD," said ACO President Tamara Rosier, PhD. "At ACO, we are dedicated to sharing information about various treatment options for ADHD, supporting the continued professionalism of ADHD coaches, as well as providing to the public the most comprehensive list of professional ADHD coaches anywhere."
Random drawing for creative submissions
As part of Awareness Month community engagement, the ADHD Awareness Coalition is hosting a drawing for ReadyRocker chairback rockers. To enter, community members can share their inspiring ADHD memes, ADHD stories, and ADHD art. Submissions will be entered into a random drawing for valuable prizes offered by ReadyRocker, ADDA, ACO, and CHADD. In addition to the chairback rockers, prizes include a year's membership to ADDA and CHADD, as well as several ADHD coaching/consulting sessions. All submissions must be received by October 28, 2020, to be entered into the drawing. The drawing will be at random and winners will be notified individually by November 2, 2020. There is one prize per winner; not all entries will win.
Submissions will be highlighted on the ADHD Awareness Month Facebook page, Twitter, and website.
To learn more and to submit your art, story, or meme, visit ADHDAwarenessMonth.org.
Join the discussion: How are you helping to raise ADHD awareness?