Being Productive When You Have ADHD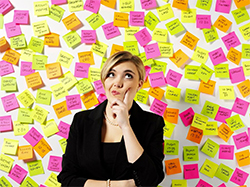 Are some of the symptoms of ADHD—inattention, distractibility, and procrastination—getting in the way of your getting things done? There are entire books with suggestions on how to be more productive. Here are a few tips.
Make two lists—one of everything you need to do and one of just three tasks to accomplish.
Sometimes we can get overwhelmed by all of our "to-dos" or think we can get the whole list done in the short time we actually have. By making one master list, we get it all on paper and can better choose two or three tasks that we can get done in the time we have—whether it is a day, a week or a month.
Wants some more tips? Visit Organization and Time Management.