Build a Healthy ADHD Lifestyle Today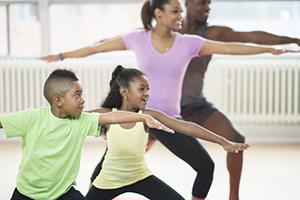 Can living a healthy lifestyle improve ADHD symptoms for children and adults?
Studies have shown that some additions to your lifestyle could be helpful. Simple things you do today may help with some symptoms and help to improve your overall health.
Work with a specialist
Ask your health care provider to refer you to a specialist in ADHD, to create a treatment plan that works for you or your child. You can find a specialist through the CHADD Resource Directory and the listing of Hospitals and University Centers.
Learn how food choices and meal planning can play a role in your treatment plan. You may want to work with a registered dietitian who specializes in ADHD. This professional can help you choose foods and create meals plans that help promote your family's health and work to improve symptoms or the treatment plan.
Working with a coach or personal organizer can help you bring order to your environment and create routines that work with your symptoms.
Get moving
Exercise has been found to be helpful for some people to increase their ability to pay attention and with decreasing hyperactivity. An activity that is intense enough to break a light sweat can help with symptom management.
Activities such as yoga and mindfulness have helped some people increase attention. Other activities, including sports, can help a person gain better self-confidence.
Spend time in green places! Researchers are finding that people who spend more time outside and in parks or other natural areas have improved mood and concentration. Go hiking, biking or horseback-riding as possible outdoor activities.
Little things are important
Get enough sleep. The amount and quality of sleep can affect symptom levels for many people. In young children especially, a lack of sleep can aggravate inattention and hyperactivity.
Wash your fruits and vegetables with water or with water and a specifically-made fruit and vegetable wash. Researchers are considering the possibility that some pesticides may affect symptoms in children.
Avoid foods and products that you have a sensitivity or allergic reaction to. Discuss with your doctor if you should avoid foods with artificial colors or preservatives as these ingredients can cause reactions that aggravate symptoms for some children and adults.
Seek support
Find a CHADD support group, an online group or a gathering of friends that understands the challenges of ADHD. Sharing with other people can help when you're struggling or seeking new resources.
Talk with a therapist or counselor who can help address your symptoms and the challenges they cause, along with any co-occurring conditions.
Contact the National Resource Center's Helpline at (800) 233-4050, Monday through Friday, from 1-5 p.m. for information on ADHD and where to look for resources near you.