Camping Together Is Good For Families With ADHD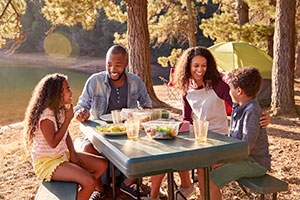 Did you know that going camping has benefits when it comes to ADHD? The time spent in nature has been shown to help soothe some ADHD symptoms, and the time spent with your family helps to strengthen relationships that can be stressed by symptoms. There's even some research showing camping as a family can help your children academically in the fall.
Have you considered taking some time away in a wooded park, either for a weekend, a longer week, or even for day camping adventures? The benefits could be worth it for your family.
There continues to be research emerging that shows time spent outdoors in a green, natural environment benefits our mental and physical health. For young people with ADHD this time can help decrease some ADHD symptoms, especially when combined with physical exercise.
Specifically,
research by Frances E. Kuo, PhD, and Andrea Faber Taylor, PhD
, show children who spent time in the outdoors, especially wooded and park setting with lots of natural green space, had a measurable reduction in their ADHD symptoms. They theorized that a regular amount of time spent outdoors in natural settings could help some of the children in their study reduce or eliminate medication as part of their treatment plans.
"Our findings indicate that exposure to ordinary natural settings in the course of common after-school and weekend activities may be widely effective in reducing attention deficit symptoms in children," Drs. Kuo and Taylor write. "Analyses of the sample as a whole indicated that green outdoor activities resulted in reduced children's symptoms and had more positive after effects on symptoms than did activities conducted in other settings."
Their findings are supported by additional
research reviewed by Rachel McCormick, MSN
. In her review of research, she concludes being in green space benefits children affected by ADHD by helping to improve behavior and cognitive abilities and decrease ADHD symptoms. She noted that the time spent outdoors in wooded areas and parks even showed an association with higher standardized test scores.
Research done in the United Kingdom found a benefit to academics from camping, even when a child doesn't have ADHD. Sue Waite, BA, an associate professor at the Plymouth Institute of Education in the United Kingdom, found that parents reported their children have a better education outcome after having spent time camping as a family.
"The parents surveyed believed camping supported the key curriculum subjects of Geography, History and Science,"
Ms. Waite says
. "And actually, that stacks up because the most common camping activities were natural–such as rock pooling and nature walks–where children were getting to understand ecosystems and identify lifeforms, respecting nature and the environment."
Types of camping: What works for your family
If you're ready to load up the picnic basket and pack a few bedrolls, you may want to consider which type of camping will be best for your family. A private or state park? Time spent on land owned by a family member or friend? Family camping at a specialized camp for groups?
When deciding on a camp, take into account your child's or your own ADHD symptoms. Camping usually includes hiking, building and maintaining fires, using knives, hatches, and other sharp blades, and can include activities that could be dangerous if one has trouble paying attention. Also consider your own level of experience when it comes to outdoor life, and the comforts of home that you'd most appreciate (if flushing restrooms are high on your list, look for options that include them).
Generally, your options include:
Tent camping:

Often the easiest to reserve and the most affordable. Bring your tent and small grill and set up in the park's tent camping location. Some campsites have electricity, but you should check ahead when making your reservation. Campsites are often close to each other, so you'll hear the neighbors and they'll hear you. There isn't much privacy but it's an opportunity to meet new people, along with participating in activities and events planned by the park where you are staying or spending time together enjoying the park's resources.

Cabin camping:

These may be more expensive and need to be reserved earlier in the year, depending on the park. Cabins vary depending on the park and the location; some are handicap accessible and have electricity. A few locations will have plumbing and restrooms. The campsites tend be larger and further away from the neighbors.

RV camping:

You'll want to reserve an RV site at a public park or at one of the many RV parks across the country. With these recreational vehicles, you bring the comforts of home with you–but also the maintenance that goes along with fresh water and waste water connections.

Day camping:

If you're new to the idea of camping or not ready to be gone overnight, day camping is your best bet! Check into your local state or community park to reserve a picnic site. Come early in the day and spend time relaxing with your family. You can plan to have your meals there and take a little time to go on a hike, splash in a creek, or play board games while stretched on the lawn. When the day is over, pack up your picnic and head home.
Packing for adventure when you have ADHD
Once you've made your reservations, make your plan.
These questions will help you decide on what you will need for your camping trip.
Will you be hiking or swimming? Participating in park-sponsored activities or entertaining your children with arts and crafts brought from home? What about meals: are you cooking over the fire, making sandwiches, or heating-up premade dinners?
Always remember your first aid kit (your local pharmacy and pharmacist can help you round out what you need) and extra socks and shoes. Sunscreen and insect repellent are also musts for any camping trip.
Things you will need:
Kitchen items:

How will you cook and serve meals? Don't forget that you need to keep meats cold, so a cooler with ice for meats and other foods and a second cooler for drinks is a must.

Campsite gear:

Tent, grill, rainfly, ropes and cords, lanterns, bag and lawn chairs, soap and a water container are usually on the list.

Clothes and bedding:

Bring sleeping bags or bedrolls and don't forget pillows. Many people appreciate the comfort of a sleeping cushion or air mattress, especially if you're tent camping. Bring clothes suited to the season, but make sure you have warm jeans or slacks, extra socks and a sweatshirt or sweater because nights will get cool.

Outdoor toys:

Bring what your family enjoys. Leave as many electronics behind as you can.
Preplanning makes camping a more enjoyable experience. Take ADHD symptoms into account when you plan–inattention, hyperactivity, forgetfulness–and look for experiences that will be memorable for your family. For more tips, we have some resources for you: