CDC Awards CHADD Four-year Grant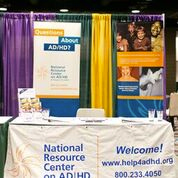 The CDC awards CHADD a four-year grant for the National Resource Center on ADHD
LANHAM, Md. – The Centers for Disease Control and Prevention has awarded $3.4 million over the next four years to Children and Adults with Attention-Deficit/Hyperactivity Disorder (CHADD) to continue the National Resource Center on ADHD (NRC). The new cooperative agreement from the CDC's National Center on Birth Defects and Developmental Disabilities ensures that the NRC will continue to serve as the nation's clearinghouse of science-based information and resources on ADHD.
Since 2003, the NRC has dispelled ADHD myths by providing accurate and reliable information to those dealing with ADHD, professionals, and the general public. An estimated 9.5 percent of children and 4.4 percent of adults in the United States have been diagnosed with ADHD. "With this funding,we can continue to provide valuable information and resources to the more than 15 million people affected by ADHD in the United States," said NRC Director Susan Vosburgh. "We are excited to continue our work with the CDC to help the hundreds of thousands of families struggling with the effects of ADHD symptoms on daily life and prevent the negative long- term consequences that can result when ADHD is left untreated."
CHADD's National Resource Center on ADHD is the sole national program in the U.S. with an ADHD helpline. Annually, NRC health information specialists respond to more than 4,000 inquiries from families and adults seeking to learn more about ADHD. Information on ADHD diagnosis and treatment, strategies for living with the disorder, and community resource information is provided in both English and Spanish.  "This award helps us further serve as the nation's leader in supporting all those affected by ADHD," said CHADD Chief Operating Officer April Gower.  "It guarantees that families will continue to have a resource to turn to for information they can trust about ADHD."
"Using our extensive website and outreach programs, we are able to help parents, especially those with preschoolers and school-aged children, and adults find assistance in their local communities," Vosburgh said, "and by providing them with the latest research on ADHD, we aim to empower them to make healthy choices for their families."
The NRC provides an information and referral line (866-200-8098),along with evidence-based information and resources on its webpage, Help4ADHD.org/NRC, which has 2.5 million visits per year. In addition to the Ask the Expert webcast series viewed by over 40,000 annually, the NRC publishes a weekly e-newsletter; provides an online library of peer-reviewed science and medical journals related to ADHD; videos on ADHD-related topics; training for professionals; and administers the Young Scientist Award, which helps to support the work of ADHD researchers. Additionally, the NRC has taken a leadership role in promoting ADHD Awareness Month in October of each year.
Founded in 1987, CHADD is the nation's leading ADHD advocacy organization, supporting families and individuals affected by ADHD. CHADD makes a difference in the lives of people affected by ADHD through collaborative leadership, advocacy, research, education and support. To join CHADD today, visit www.Help4ADHD.org.