CHADD Young Scientists: Where are They Now? Part One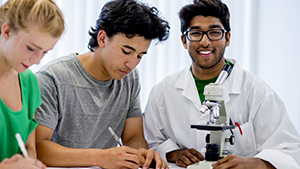 During the past eight years, 19 researchers have received CHADD's Young Scientist Research Award, presented during its annual international conference on ADHD. CHADD recognizes new researchers in the ADHD fieldwho are making contributions that further our understanding of ADHD. While preparing to announce this year's winners, we caught up with a number of our past recipients and asked them what winning the award has meant to them and what they're doing now. Many of the recipients said they felt CHADD's prestige and the award helped further their careers in ADHD research.
We are delighted to share the stories of a group of Young Scientist Research Award recipients.
Meghan Miller, PhD, 2015 Recipient . Dr. Miller is working on projects focusing on identifying the earliest signs of ADHD in infants and toddlers who have family histories of ADHD. She is comparing the development of infants at risk for ADHD to the development of infants who are at risk for autism. The goal is to identify overlapping early markers of these disorders to refine and develop more efficient and cost-effective early interventions for both conditions. She is a licensed psychologist and a postdoctoral fellow at the UC Davis MIND Institute. Her research, funded by a K99/R00 award from the National Institute of Mental Health (NIMH), focuses on identifying the earliest behavioral manifestations of ADHD and autism spectrum disorder.
"Receiving this award provided essential support and recognition during a critical period in my development as a clinical scientist," Dr. Miller says. "It is exciting and validating to feel that the work I'm currently doing resonates with the CHADD and ADHD community, and that CHADD saw value in my research."
Walter Roberts, PhD, 2015 Recipient. Dr. Roberts recently finished an internship and will soon begin a post-doctoral fellowship funded by the National Institute on Drug Abuse at Yale University Medical Center. His research will focus on identifying pharmacological treatments for alcohol and tobacco use disorder.
"As I was looking for positions as a post-doctoral fellow, having the Young Scientist Award on my (curriculum vitae or resume) communicated competence and connectedness to potential employers," Dr. Roberts says. "One promising drug in this area is guanfacine (brand name Intuniv), which is currently indicated for the treatment of ADHD. I hope to use this pharmacological overlap to study whether guanfacine could be especially helpful for patients who report symptoms of ADHD alongside their problems with substance abuse. "
Margaret Sibley, PhD, 2014 Recipient . Dr. Sibley is an assistant professor of psychiatry and behavioral health at the Florida International University Herbert Wertheim College of Medicine and Center for Children and Families. Last year, she worked on a book about how to treat motivation and executive functioning deficits in teens with ADHD, which will be published by Guilford Press in September. Dr. Sibley is conducting clinical trials funded by NIMH and the Institute of Education Sciences that examine the best way to package skills-based treatments for adolescents with ADHD. One clinical trial examines how adolescents with ADHD and their parents can receive organizational skills interventions and motivational interviewing in community mental health agencies. The other examines how successful high school students can serve as mentors to high school students with ADHD who are struggling academically.
Dr. Sibley is also working with colleagues to research the persistence of ADHD into adulthood and the extent to which ADHD can emerge for the first time in adulthood.
"The whole purpose of my research is to impact the lives of children and adults with ADHD," Dr. Sibley says. "Being recognized by CHADD made me feel like I was researching areas that felt relevant and meaningful to people for whom ADHD hits close to home."
Stephen Becker, PhD, 2014 Recipient. Dr. Becker is an assistant professor of pediatrics in the Division of Behavioral Medicine and Clinical Psychology at Cincinnati Children's Hospital Medical Center and the University of Cincinnati College of Medicine. His current research focuses on co-occurring problems that are often present in children and adolescents with ADHD. He has a particular interest in sluggish cognitive tempo and sleep functioning.
"I would encourage emerging ADHD scientists to go after the questions that intrigue them most―to read broadly, both the latest studies and the classics," Dr. Becker says. "Perhaps most importantly, emerging researchers should seek out excellent mentorship and take the initiative to build collaborations."
Read more about our Young Scientist Award and Recipients.