Could Your High School Student Benefit From A Gap Year?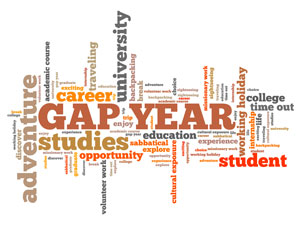 Traditionally college-bound students graduate high school, have a summer break, and immediately transition straight into the college world. During the 1960s a wave of students with a new mindset started questioning whether they really had to follow tradition and go straight into more schooling. These students were interested in pursuing passions, traveling, volunteering, and giving back to the world. They sought to experience a period of self-discovery and unwind after twelve years of sitting in a classroom. These early pioneers started a movement known now as the "gap year." Contrary to what some parents might fear, most gap-year students return home to attend college and complete their degree. And students who take a gap year are more likely to complete college than those who go straight from high school to college.
In the United Kingdom, a majority of students take a gap year before starting their college careers. There is a smaller percentage in the United States, but each year gap-year interest and enrollment trends continue to grow. Students are realizing that a year off will be beneficial after their competitive high school experiences. They feel a need to recharge before entering the next level of education. It is also a great opportunity for them to reset their ideas of learning, since college-level learning is so different from high school-level learning.
Former "gappers" report significantly higher motivation in college—in the form of "adaptive behavior" such as planning, task management, and persistence—than students who did not take a gap year. Furthermore, gappers reported a lessened instance of "maladaptive behavior" as a result of their gap year.
Many young adults affected by ADHD can benefit from a gap year. Is this a good option for your high school student, who might not yet be ready for college?
Keep reading What You Need to Know About the Gap Year Experience in Attention magazine to learn more about the form of student readiness for college.
Many young adults who have ADHD want to attend college–but they might not be ready for it. Could your young adult benefit from waiting a year after high school before starting college? Many young adults have taken a gap year and have been successful when they were ready for college.