Don't Text & Drive. Tips to Avoid Distractions with ADHD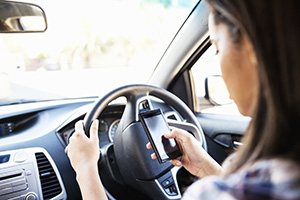 Your cellphone buzzes. It could be a phone call, a text, or an instant message. But is it worth the risk of checking your phone while you're driving? Tuning the radio, talking with passengers, checking maps, and having friends or young children in the car can all be additional sources of distraction. For adult and teen drivers with ADHD, driving distractions can be made worse by the symptoms of the disorder.
The U.S. Department of Transportation reported 3,179 people in 2014 were killed and 431,000 were injured in motor vehicle crashes involving distracted drivers. While there are many causes, we know the symptoms of ADHD increase the risk of hazardous driving. This is especially serious for teens; motor vehicle crashes are the leading cause of death for this age group.
What are some things you or your teen can do to be a safer driver?
Put the cellphone out of reach, such as in a purse, a bag on the backseat, or in the trunk of your car. When you have ADHD, the impulse to take a look at your phone can happen before you realize it.
Silence your phone. If you don't know of a notification, you won't be tempted to check it.
Limit the number of passengers in your car, especially for teens.
Follow your treatment plan. Medication as part of treatment has been shown to improve driving results.
Review your route before you leave.
Take a driver's education class. Insist that your teen take a driver's education class before getting a driver's license.
Looking for more information on safe driving when you have ADHD? Visit our webpages for Adult Drivers and Teen Drivers.
Other Articles in this Edition