Finding a Summer Job When You've Got ADHD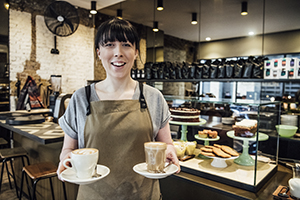 Spring is the season to search for summer jobs. The teen or young adult with ADHD often feels overwhelmed by the job search, especially if it's the teen's first summer job or the young adult is living out of town and looking for something back home.
If you're the teen or young adult (maybe your parent has sent this along to you), where can you look for summer job openings? What kind of job would be the best fit for you? What information do you need to pull together, and will you need to have an interview? How could your ADHD symptoms affect your job search? Answering these questions will help you get ahead of the game.
Summer job search
Start by making a short personal inventory of your strengths and weaknesses, along with the things that interest you. Keep in mind your financial needs—bills to pay, adventures to have, or saving for college or your first independent home.
Make your list keeping how ADHD symptoms affect you in mind. Do you do well with lots of variety? Would a summer job sitting in one place all day be too much for you? Select possible openings with requirements that fit with your needs for novelty, variety, and flexibility.
Check out the local job listings; often your community newspaper or an online forum publishes summer help wanted listings. Check the message boards at your favorite stores or local businesses for job postings.
Many fast food and small businesses will hire on the spot, so go visit them with the idea that the visit will also be an interview. If you live out of town, you can visit during your spring break. Or you can call and ask when would be a good time to speak with the manager about summer job openings. Then follow up!
If you plan to stay in the town where you go to college, or you attend a local school, check with your college's career office. Local businesses often list summer openings with local colleges, especially if they have openings in the fields of study offered by the school.
Don't underestimate word of mouth as a source of job opportunities, says Jeremy Didier, founder and director of the Kansas City CHADD affiliate. She says her young adult children have found jobs that way. Ask your friends where they're working and whether those places are doing any more hiring.
Where to work when coping with ADHD
Ann Abramowitz, PhD, a professor in the department of psychology at Emory University, says it's important to be honest with yourself about how ADHD affects you when consider a specific job opening. Keep in mind that summer positions are short-term work opportunities and might offer you a good chance to stretch your abilities.
"Everybody's different, every job is different, every supervisor is different," says Dr. Abramowitz. "Find something that seems like a good fit—meaning it plays to some area of strength you have, like in a sport, or maybe you're good with other people, and need good structure and supervision."
A summer gig can be an opportunity to try out career ideas, especially if you're in college or plan to work right after high school. If you can afford a nonpaying position you might explore an internship or volunteer position as a way to try out new experiences. If you're worried about being bored, consider finding a couple of part-time jobs rather than just one position to keep things fresh and interesting.
"The best summer jobs for kids with ADHD are pretty much the same as the best summer jobs for most young adults without ADHD," says Ms. Didier, "a combination of what you're interested in and a workplace where the pace or content doesn't get stale or boring."
Apply and be ready for the interview
Applications are usually filled out online, especially for positions with larger companies. This can be a big help if you're applying from out of town. Check with the company's policies before following up in person; some companies prefer to contact you first and will hold it against you if you contact them too soon.
If you go to the business in person, expect the application process to include an on-the-spot interview. It's best to dress a little more formally. If you get the job, your manager will give you a better idea of what type of clothing is expected.
Be prepared for a more formal interview when applying for internships. For any job interview, practice with a parent, friend, or other adult, so you're prepared when you go in. Prospective employers want to get to know you and confirm that you're a good fit for their business.
You'll probably be given the chance to ask questions, too, so prepare a couple in advance. Dr. Abramowitz suggests asking, "Could you tell me more about the responsibilities?" "What would my schedule be, and would it be pretty much the same every day or week?" "Who would be supervising me and what would that look like?" The answers will also give you an idea of whether the job is a good fit for you.
On the job—with ADHD
Think about the challenges you face and the kinds of things that help you succeed during the school year. If you tend to be late, practice being on time. Set two alarms if you have to get up at a certain time. If you're scheduled to work in the afternoon or evening, alarms can remind you when it's time to wrap up whatever you're doing and get ready for work. There are also plenty of apps to help with time management.
More tips for workplace success:
Join the discussion: What's your ideal summer job?