Finding Telemedicine Services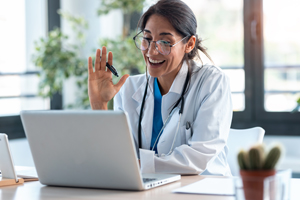 A lack of ADHD specialists in your area can make it challenging to get an ADHD evaluation for yourself or a loved one. Often there are long wait times for an appointment (sometimes six months or more), or it can be difficult to find a practice that accepts your insurance.
Telemedicine or telehealth is a relatively new service or private practice approach that offers evaluations for children and adults with ADHD. Telemedicine services can be cost effective and a convenient alternative to an in-person visit with a doctor or specialist. The key is finding the right fit for you or your family.
"An ADHD diagnosis is made mainly by history and you can get that by phone or through video," says L. Eugene Arnold, MD, MEd, CHADD's resident expert and a professor emeritus of psychiatry and behavioral health at Ohio State College of Medicine. Since that information is generally gathered by interview during a visit with the specialist, meeting by video chat is equally effective.
Dr. Arnold cautions that for a more complicated diagnosis other than ADHD, such as a learning disorder or other common coexisting condition, an online ADHD evaluation may not be the best fit. When there are conditions where symptoms can mimic ADHD, says Dr. Arnold, it is better for a patient to have an in-person evaluation. Check with local providers or through your health insurance company to find a mental health professional who offers telemedicine services. If you decide to try a telemedical service that has been advertised, research the service and its providers before making the first appointment.
Be a savvy consumer
If you're thinking about using a telemedicine service, proceed with some caution at first. Research the providers you are considering. Check on the specialists' licensure and whether they offer services in your state; this information should be readily available on the practices' websites. Most online telemedicine practices list the states where they provide online care. Some local providers, such as the Adult Attention Deficit Disorder Center of Maryland, Envision ADHD Clinic of Wisconsin or Next Step 4 ADHD in Kentucky, can only offer services for individuals in their respective states.
Other considerations:
What services do they provide?
What experience do they have in evaluating and treating patients with ADHD?
Do they only perform ADHD evaluations?
Do they provide treatment plans, including prescriptions?
Do they help you find local medical professional that can prescribe medication if needed?
Is the cost of the evaluation covered by your insurance?
Do they have therapists on staff to provide ongoing treatment?
Some online practioners only offer an ADHD evaluation and are unable to prescribe medication. It is up to you to find a local healthcare provider who can prescribe and monitor medication as part of your treatment plan. Sometimes that health care professional will want to do an evaluation before prescribing, resulting in the online evaluation becoming a waste of time and money.
A telemedicine website can claim its evaluations are accepted nationwide but it doesn't mean that it will be accepted at other doctors' offices. Jeffrey S. Katz, PhD, is a clinical psychologist in Virginia Beach, Virginia, and a member of CHADD's public policy committee. He is concerned that online telemedicine services may not work for some people who need a recent ADHD evaluation to request academic accommodations.
"Colleges have a lot of requirements for accommodations," he says. "I would assume these evaluations would not be what a college student would need."
Dr. Katz says, in his experience, online evaluations and treatment can be less comprehensive than in-person office visits. Developing a relationship with the patient is important, he says, and sometimes that is hard to do through video chat, especially for children and teens. Although he believes it can work for some patients, it is not suited for everyone and should not be a one-size-fits-all approach. He prefers in-person visits when possible.
"ADHD is a lot more complicated than often people credit it with being," Dr. Katz says. "There's a lot more going on, it's more complicated than many people think."
Looking for more?
Telemental services for ADHD
CHADD does not evaluate or endorse any specific telemental health service. The following incomplete list is offered for reference and not as recommended or endorsed:
• ADHD Online
• Amwell
• Lifestance
Join the discussion: Have you worked with a telehealth provider? What do you suggest?