New Options for ADHD Treatment During COVID-19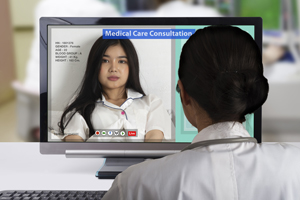 New options are available for people being treated for physical, mental, or emotional illness during the social distancing required to prevent spread of the novel coronavirus, also referred to as COVID-19. Telehealth visits were already approved for areas distant from clinics and professionals. Now the government and insurance companies have made the option available for people in any area so they may access healthcare from home without risking exposure to the virus by going out.
The new opportunity resulted from relaxing four previous restrictions on telehealth:
Previously, telehealth was available (and paid for by Medicare, Medicaid, and insurance) only for people living in areas (such as rural) where it was hard to get to the required licensed professional or specialist. This restriction has been lifted, so now "across the country"—even in areas with access to the professionals—it is possible to have follow-up appointments by video or even phone.
Previously, telehealth visits could only occur over special video setups with special security features to protect confidentiality in compliance with HIPAA requirements. Now a video visit can be done using video calling or video conferencing programs and other less secure connections.
Previously, the patient had to go to a special center or clinic for a telehealth visit, where special HIPAA-compliant video equipment was located. Now the visit can take place in the patient's home, using the patient's own computer or digital device.
Previously only video visits were paid by insurance. Now, if the patient does not have a computer, smartphone, or other device with video capability, telephone visits can also be paid for by insurance.
An important remaining restriction is that the first visit must be in-person. The new telehealth opportunity is for continuation of treatment only. If you are currently working with a medical professional to manage your ADHD treatment, you could continue to do so through telehealth. However, new evaluation and first-time visits still need to be in-person.
The Centers for Medicare & Medicaid Services announced the new policy when federal and state authorities advised people to stay at home and limit social contact. Most insurance companies followed suit.
The new policy covers telehealth by any licensed clinical professional: physicians, psychiatrists, psychologists, nurse practitioners, licensed social workers, podiatrists, and so forth.
For maximum efficiency, you will need to have the following available at home: a scale to report weight (an important bit of information for a doctor who is prescribing medicine); a means of measuring height for child patients; a thermometer; and a blood pressure monitor. The latter can be bought inexpensively at any drug store or online. Most blood pressure monitors will also give the heart rate (pulse), also important to a prescriber.
For additional information:
Join the discussion: Would you be comfortable meeting with your healthcare provider through video chat or teleconferencing?