Finding the Right Summer Camp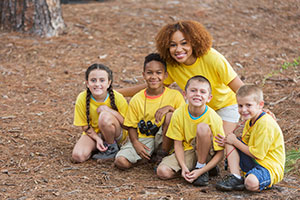 If you're thinking about summer camp for your child, now's the time select a camp—before places fill up. A little research into camping options, costs, and availability now can mean a happier summer for both your child and you.
Camping with ADHD
"Camp is simply an opportunity for kids to learn and grow in a remarkably unique environment," says John Willson, MS, LRT/CTRS. "It can be a time when real growth occurs in social and organizational skills, as well as in problem-solving and people skills, and in ways to overcome some of the executive function issues that challenge kids."
When you're looking for the right camp, keep in mind that campers who have ADHD might need some special considerations, especially those who experience symptoms of impulsivity and inattention. New adventures and scenery help campers who thrive on novelty.
Camps with a higher staff-to-camper ratio and that train staff members to help students affected by ADHD or learning disabilities are often good choices. Camps that allow friends to share a unit might be good choice, allowing your child and a friend to go together.
Choosing a camp
"It's nice to let children be part of the process," Mr. Willson says. He is the executive director of SOAR, a North Carolina-based ADHD adventure camp. "The more actively engaged they are in the process, the better off they're going to be."
Start by thinking about what you're looking for in a camp. What you think would be best for your child, as well as what he would most enjoy? What activities would help him thrive this summer? Consider:
What are your child's interests? Would he like to try new physical adventures such as rock climbing and rafting, or a sports-focused camp, or a summer program that focuses on arts or academics?
Would your child like to go to a sleepaway camp, one associated with a scouting or youth program, or would he prefer a day camp closer to home?
Should he go to a camp for campers with ADHD, where counselors will have more experience handling impulse and other ADHD-related issues?
Most programs are designed for children from elementary through middle school; a few programs will take high school students as counselors in training or as camp staff members. Adventure programs are designed for high school students. Be sure to get your child's thoughts on the kind of camp he would enjoy most.
What about camp tuition?
Sleepaway camps can be expensive, but often offer financial assistance or scholarships if you reach out to them early. Mr. Willson also recommends approaching service organizations, such as the Lions Club or Kiwanis, in your area to see if they have programs to help pay for camps for local residents. Area businesses are another possibility—sometimes stores have a fund designated for that kind of support.
The American Camp Association provides information on finding financial assistance at Affording Camp.
Another option is setting up a small fund for your child and invite your friends and family to donate to it on birthdays and holidays, in place of gifts. If your child is old enough, you might encourage him to raise a few dollars by doing odd jobs in your neighborhood.
Day camps offer just as many chances to meet people, learn new skills, and master self-care and impulse control, and are usually less expensive. Most will offer camping experiences, including hiking and sports.
Maybe next year for camp
Not every child is interested in summer camp. And that is all right—maybe another local summer program will be a better fit for your child. Check with the local YMCA or YWCA, your faith community, local parks and community center, local or neighboring school district or library system. Often they will offer closer-to-home programs and field trips that will spark your child's interest.
If your child is really stressed by the idea of going to sleepaway camp and you think maybe he's not quite ready for it, you might consider day camps instead. The American Camp Association recommends that you discuss waiting a year with your child, suggesting that he give it a try next summer.
At some point, though, you may find that you need to make the decision to send your child to camp, despite his reluctance to go. Anxiety among first-time campers is common and to be expected, says Mr. Willson. Having the opportunity to face some of that anxiety and learn how to cope with it can be beneficial in building independence.
"Parents want to protect their kids from worry or from an anxiety-producing situation, when actually the opposite is incredibly necessary for kids to move forward," says Mr. Willson. "Kids who come to camp at ages 8 to 10 who are super-anxious are around other kids who are also super-anxious at camp, and they live and deal with it together. Those become important stepping stones to developing resiliency skills that are needed to overcome obstacles."
Looking for more?
Join the conversation: What's most important to you in a camp for your child this summer?