Getting Organized in the Coming Year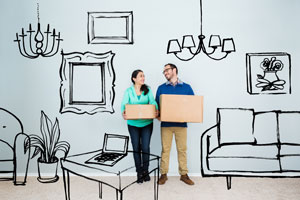 One of the top New Year's resolutions is to get more organized. But what does that really mean anyway, and what does being better organized look like when you are also coping with the symptoms of ADHD?
"Everybody might need something different," Certified Professional Organizer Holly Hitchcock Graff tells listeners during the Ask the Expert webcast, All in a row: Getting your kids with ADHD organized.  
"The No. 1 thing is to keep organizing simple," she says. "Organizing needs to be easy and simple."
Suggestions for organizing all that paper
Professional organizer Kacy Paide specializes in organizing offices and the flood of paper that families have to contend with—everything from a nightly newspaper to school permission slips, personal taxes and family photos. She offers some suggestions in taming this unending stream of paper that clutters the homes of families affected by ADHD in Make Peace with Paper, Even if You Hate Filing for Attention magazine.
"My clients are sometimes surprised (and always relieved) that I encourage them to ditch the filing cabinet and think way outside of the box," she says. "How do you keep a clear desk when you lose anything that is in a cabinet or drawer?"
Ms. Paide's suggestions:
Use clipboards for active projects.
Clipboards are a wonderfully visual way to organize active projects. They allow you to be splashy—within boundaries. These are especially helpful in organizing writing projects, upcoming trips and events, bills to pay, and more. Use them also as idea buckets, assigning one per project, collecting all related media—be it note scraps, stickies, tear-outs, or printouts.
Fill the desk with file boxes.
If you're out-of-sight-out- of-mind, the only hope your folders have for seeing the light of day is to keep them at eye level and not hidden under a lid. This works especially well for paper-heavy current projects that you pull from or add to frequently.
Turn your bookcase into an open filing system.
Fill the bookshelves with file boxes. Boxes encourage you to create tight categories, drawing lines in the sand in a way that a deep file drawer can't do. Shelves allow you to see all categories at a quick glance, taking the mystery out of "what lurks in my file drawers."
File on the wall.
Use wall pockets just as you would file boxes. If one works, five or ten might work even better. Better to have pockets than art if that means your desk and head are clear as a trade-off!
Ditch folders for magazine boxes.
"I once had a client who not only refused file cabinets, but refused file folders too," Ms. Paide says. "Up for the challenge, we converted her bookshelf into a tower of magazine files, each assigned a category such as NYC Trip, Marketing Ideas, and Add to Mailing List. She was a busy realtor with no time to retrieve fussy folders. A 'stuffer' by nature, she was allowed to be as eclectic as she wanted within these boxes. Categories were created and piles were eliminated. The stashes made her feel at home, not boxed in."
—From Make Peace with Paper, Even if You Hate Filing
Smart phones can have smart ideas
Smart phones can be helpful when it comes to executive function. Use apps to externalize that executive function and act as a memory prompt to get the most out of your device when it comes to organizing.
"As someone with ADHD, you need to consider exactly which features will help you the most (and which ones might send you over the edge)," writes Linda Beliveau, Stacy Driscoll, MEd, and Therese Willkomm, PhD, ATP, in Yep, There's an App for That: Choosing Apps for Executive Function Challenges for Attention magazine.  "How do you enter information into the app, and how is it conveyed to you? It's best to focus on apps that have few steps in the stimulus-response sequence."
The authors evaluated several apps for ease of use and the ability to record information and to give reminders for daily life events—taking medication, walking the dog or getting ready for work. Apps they reviewed include:
Any.Do Task & To-Do List—You can enter information via speech recognition and can sync with other devices. This app claims to be "the easiest life manager around" and keeps to-do lists and your calendar all in one place.
Priority Matrix—Instead of a linear to-do list, you can sort tasks by color categorization. On an iPhone the built-in microphone speeds up your input. You can add information to a certain quadrant and easily find the list you need to focus on at any time. You can email lists to others, and to yourself as an added layer of reminding. Because Priority Matrix syncs with other devices, you always have access to your lists, and family members can have access as well.
Picture Scheduler—For iPhone and iPad, this app uses photos, audio prompts and text to create and organize daily to-do lists and tasks. You can also create to-do or tasks lists for your child or another adult and share them with that person's device.
Looking for more?
Resources you might find helpful when creating your organization plan:
Join the discussion: What tips would you share on organizing when you have ADHD?