July is for More Than the Beach!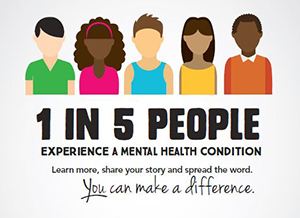 Minority youth make about half as many mental health visits as white children, according to a 2016 study by Lyndonna Marrast, MD, and colleagues. They found that among African Americans, children saw mental health professionals 47 percent less and young adults 68 percent less compared to whites. Among Hispanics, children's visits to mental health professionals were 58 percent less and young adults were 62 percent less compared to whites. The researchers note "psychiatric and behavioral problems among minority youth often result in school punishment or incarceration, but rarely mental health care."
In some cultures, hyperactivity and/or impulsivity in boys can be endorsed as typical by parents and viewed as gender preferred behavior.
In some immigrant communities, a psychiatric diagnosis of ADHD is associated with isolation and social exclusion.
Children from different backgrounds can exhibit symptoms resembling ADHD but have a different origin such as trauma from exposure to violent environments, or a language barrier from recent immigration. Children from homes where English is the primary language were four times more likely to be diagnosed with ADHD than those from non-English homes.
Health care professionals need awareness of differing cultural beliefs and belief systems in order to align parental beliefs with clinical psychoeducation and treatment recommendations.
Clinical assessments of ADHD often rely on teacher reports of the child's behavior. However, when the teacher lacks an understanding of cultural differences in ethnic/racial groups, under-reporting or skewed reporting often occurs.
Trust is a crucial factor in whether parents and children can collaborate effectively with caregivers―including healthcare professionals, teachers, and law enforcement. Trust is achieved when communication with caregivers is grounded in understanding and respect, free of bias.
Academic impairment and underachievement
Untreated hyperactivity has been linked to long-term social and peer problems
Poor listening skills and poor frustration tolerance can lead to tension at work and home, decreased intimate relationships, internalizing problems, and low self-esteem in adulthood
One study found a connection between childhood ADHD and intimate partner violence in adulthood associated with conduct disorder
Negative impact on work efficiency leading to longer hours of work, job instability, lack of insight into future goals, and lower annual personal incomes
Higher rates of criminality, imprisonment, speeding, traffic violation, and motor vehicle accidents
Increased likelihood of developing co-occuring disorders such as anxiety, depression, personality disorders, antisocial behaviors, and substance abuse
Recommendations from research
More diverse and inclusive evidence-based research, through culturally responsive investigations using decolonizing, indigenous epistemologies, and research methodologies, in order to benefit ADHD research and produce a more inclusive and representative body of knowledge.
Educators and practitioners working with persons affected by ADHD should assess their philosophies of practice and education. Integration of a culturally sensitive awareness of individual biases, with a focus on recognizing that patients from under represented communities may have experienced oppression, discrimination, and bigotry when dealing with mainstream institutions e.g. medicine.
Meaningful partnerships with families and professionals working with and providing care for persons affected by ADHD to support social justice efforts that encourage access to culturally relevant services and shared decision-making among various ADHD stakeholders.
What has your experience been regarding minority mental health?
Did you know that July is Minority Mental Health Awareness Month? It is a time to recognize and address the disparities in diagnosis and treatment unique to minorities. And it's also a time to consider the impact of those disparities to our community.