Keep Summer Fun for Kids with ADHD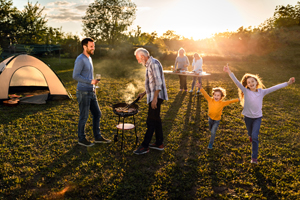 As summer begins, families look forward to outdoor activities, especially after a year of social distancing and cancelled events. Many hope a vacation or summer camp session is possible this year.
Parenting a child with ADHD can be challenging during the summer when rules are relaxed. With good planning, you can ensure your child's safety and your own time to unwind.
Continue treatment plans during the summer
Summer means children take part in more activities that can result in accidents. For those with ADHD, relaxed rules can be problematic, says Kristen Stuppy, MD, a pediatrician from Overland Park, Kansas.
"During the summer a lot of kids stop medicine for ADHD because parents feel it isn't needed, but the impulsivity, hyperactivity, and inattention all seem to increase risk of injury," says Dr. Stuppy. Taking a break from medication during the summer should be discussed with your child's medical professional first, she says.
"We continue giving our son his ADHD medication in the summer," says Heidi, mom to a fourteen-year-old son with ADHD. "It helps us stick to a routine and lessens the transition from school. We have found that he has better focus and a better handle on his emotions with medication, so we stick to it all year long. And I think we just manage better as a family in the summer when we stick to a routine, and that includes medication."
To prevent injuries, many children with hyperactive or impulsive ADHD presentations should continue their medication during the summer, says Dr. Stuppy. "Especially if the medication is needed to help make safe choices and pay attention."
"Our son is impulsive even with medication," says Heidi. "We make sure that he takes his medicine, especially when he is driving, to help him focus and to prevent accidents. Now that he will be driving more this summer, it will be especially important for him to take his medication."
When your child is away
Parents may be anxious about sending their children to summer camp, letting them go on vacation with a friend's family, or even allowing them to attend a sleepover.
"It's what happens when we are not around that concerns us about our child with ADHD," says Scott, the father of a child with impulsive-hyperactive ADHD who lives in Iowa.
"We really worried about sending our child to a sleepaway summer camp when he was ten," Scott says. "We were concerned whether the camp counselors would give him his medicine at the right time or if our son would take unnecessary risks while swimming or boating. We called the camp and explained when our son needed to take his medication, and they assured us they understood his routine. In the end it all worked out, and he had a great time at camp with no accidents. But we needed to plan a little more to make sure everything went smoothly for him."
When choosing a camp for your child, make sure it fits your child's needs and temperament. Create better summer experiences by paying attention to timing or how much activity is too much for your child.
"Since it was his first camp away, we opted for the shorter session with just two overnights, because we didn't know how he would react to a week-long overnight camp," Scott says. "A longer camping session would just increase the odds of him making an impulsive decision that could result in an accident. Choosing the shorter camp gave him the experience, and it helped ease our worry about potential accidents."
Safety reminders
Whether you are going on vacation, spending time together outdoors, or sending your children on summer adventures without you, Dr. Stuppy believes you should be especially aware of these safety tips:
For younger children with ADHD who climb more and are prone to falls, make sure you are near them when outdoors. Stay within an arm's length from your child, especially around pools or when boating.
Children should be at least twelve years old to use a push lawnmower and sixteen to use a riding mower.
It's better to watch professional displays than to allow children or teens to handle fireworks due to injury risks.
Don't underestimate the importance of sleep, especially for teens who tend to stay up late. Maintaining a consistent sleep schedule in the summer can help children and teens improve their focus and reduce the risk for accidents or injuries.
Get more summer tips:
Join the discussion: What are your summer tips for families with ADHD?