Make the Most of Summer Day Trips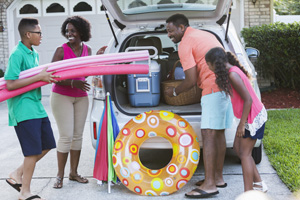 Are you ready for a change of scenery? After stay-at-home or shelter-in-place orders in the majority of US states, most people are looking for a change of pace this summer.
A day trip may be your best option for a little adventure. Here are some ideas and options for the adult or family with ADHD to take to the road while practicing social distancing and other wellness strategies.
Novelty and excitement
Day trips, short excursions that are usually close to home, can be exciting. Play the tourist in your hometown. Or go to a state or national park that is within easy driving distance for you. Many adults with ADHD have grown tired of the sameness of staying at home. Families, especially those with young and active children, can benefit from places that support physical activity.
"A day trip can be planned all on its own as part of a celebration or just as a chance for families to enjoy a day out together," says travel writer Heather Landon.
Look for locations with space to spread out and maintain social distance. Outside venues and picnics often fit the description. Some historical sites have outside, small group tours you can take.
Ms. Landon says this is a fun time to be the tourist.
"Just because you are not traveling for your vacation does not mean you cannot act like a tourist," she says. "If you feel adventurous enough, put on that Hawaiian shirt, wide-brimmed hat, and carry that camera around your neck. Even if you live in the immediate vicinity of where you are going for your daycation, it is important to think like a tourist when looking for things to do. Ask yourself what you want to see. Consider asking local hotels for suggested activities and attractions. By acting like a tourist, you will be able to see an area you may drive by regularly in an entirely different light. You may also discover some things you never knew existed in your hometown."
Make a plan and plan for fun
Impulsivity and planning? Can they go together? They can, with some creativity. Create a list of destinations that interest you or your family. These could be:
Local municipal or state parks
Outdoor historic sites
Beaches or hiking and biking trails
Museums with small group tours
Nearby villages or towns with outdoor restaurants
Scenic destinations (Niagara Falls and the Grand Canyon are famous, but local natural wonders can be found)
Mark your calendar with the days you have free to go on a trip—but don't put down the destination just yet. When the day comes (or just before it), let your excitement pick the spot. If you'll need tickets or a reservation, give yourself an extra day ahead to make those purchases online or over the phone.
"Purchase all of the tickets you will need and make any dining reservations you can before leaving," Ms. Landon advises. "This will help reduce time waiting in ticket lines and waiting for a table at a popular restaurant."
Pack up the car and hit the road
You've got your day and your destination. Time to pack up and go! Here's a quick checklist:
Your picnic: Are you planning on lunch or dinner, or both, on your trip? Packing a lunch of your favorite goodies can help you have a more relaxed outing. Most destinations have a picnic space, and you can stay at a healthy social distance from other groups.
Your essentials bag: This would include hand sanitizer, disinfecting wipes, and hygiene products, face coverings, and first aid kits. You'll also want to include umbrellas for blocking the sun, blankets for warmth or sitting on the lawn, toys and activities for children, and changes of clothes and socks.
Your adventure bag: Tickets for any parks or activities that you purchased ahead, receipts for your reservations, and flyers or brochures for your destination.
The benefit of day trips for ADHD
ADHD symptoms can sometimes make it difficult to enjoy organized activities. A day trip can be taken at your own pace instead. You can pick your destination, stay as long or as little as you'd like, and you can change plans partway through. Options that include lots of space offer children and adults a place to work off energy. Adults-only locations can provide opportunities to indulge an interest for as long as you want.
More resources for planning a day trip:
Join the discussion: What day trips would you like to take this summer?