Meeting the Challenges ADHD Presents for Students
ADHD Weekly, September 1, 2022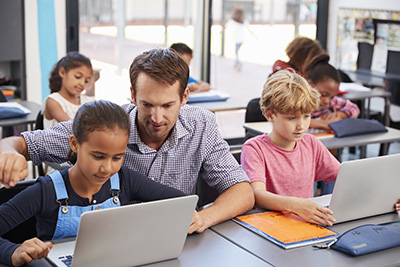 There are students in your classroom who have ADHD.
Their names come quickly to your mind because they are the most fidgety, easily distracted, likely to have forgotten homework or supplies, or the class clown. A few are harder to recognize, as they sit quietly looking into space, and seldom raise their hands or email you regarding assignments. You see these students' potential but can't figure out why their grades don't rise as high.
It can be frustrating when you find yourself calling out the same small group of students for their classroom behavior. Helping students with ADHD control their behavior and stay on task may sometimes leave you feeling that you are neglecting the rest of their classmates as they work to learn the material you've presented.
Scholastic Teacher surveyed classroom teachers about their experiences with students who have ADHD. The responses identified ten challenges the teachers had in common and their solutions:
Rethink the seating chart. A first-grade teacher arranges her classroom to allow students with attention disorders to sit closer to the front but also to the outside of desk rows. During private reading time, she encourages them to find more private spots in the classroom with limit distractions.
"That way, if they move, they don't bother others," she says. "They can stretch or sit on their knees without drawing attention."
Don't take away downtime. Recess and play time are important for rest, creative thinking, and the chance to work off pent-up energy. Often, taking away recess is used as punishment and that actually causes children who are already struggling to have greater difficulties.
Taking away recess "is a questionable practice for any kind of student but especially for kids with ADD or ADHD," says Dr. Thomas Power, director for the Center for Management of ADHD at the Children's Hospital of Philadelphia. "If you don't give them adequate time to blow off steam, they will stop trying."
Favor rewards over punishment. Assigning punishment doesn't work well, especially when children with ADHD receive more negative than positive comments during the school day. The teacher surveyed said they found positive reinforcement often was more effective at curbing negative behavior."
"When I show my compassion to them," says a preparatory school teacher, "they in turn show their best behavior."
Play to students' strengths. Children have many areas of strength and interests, not just ones considered academic. Teachers agree it takes time to uncover the strengths of all students, not just those with attention disorders. Finding those strengths and helping students both develop their talents and apply them to academic subjects has benefits both and in and outside the classroom.
"All children are teachable and loveable," says the first grade teacher. "Even the one hanging from the coat hooks singing Bon Jovi at the top of her lungs."
From 10 Common Challenges and Best Practices for Teaching Student with ADHD
CHADD's Teacher to Teacher Training
Do you think your school district needs training to better help students with ADHD and to improve the classroom experience for all students? CHADD has a training course designed by teachers to help their colleagues work with students who have ADHD. The program is available on demand as a series of course modules that can be taken either as an entire course or separately according to specific areas of interest.
Teacher to Teacher was highlighted in CHADD's Attention magazine, Teacher to Teacher and School Success: A Holistic Approach to Educating Faculty and Staff about ADHD.
"Both new and experienced teachers benefitted from the workshop, in very different ways," writes Mari Foret, director of communications at Commonwealth Academy, one of the first schools to host a Teacher to Teacher training. "The workshop helped train new teachers in understanding students with ADHD and in implementing classroom strategies. At the same time, it reviewed important concepts for experienced teachers, while exposing them to current research and reinforcing best practices."
"The workshop taught me the necessity of implementing a variety of teaching strategies to help the students focus," says Will Robertson, a chemistry and math teacher. "I wasn't sure how I was going to go about teaching kids with ADHD, but this professional development workshop gave me a pathway, strategies that work."
More classroom resources:
Join the discussion: How do you help your students be successful?