Not In Our Schools: An Anti-Bullying Program for Students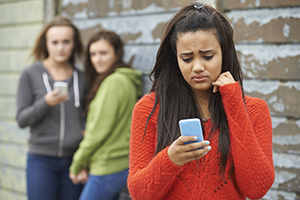 Young people affected by ADHD are more likely to be bullied in school than those without the disorder. Other students, who witness their peers being bullied, often don't know what to do or how to intervene. The program Not In Our School seeks to bring resources to schools and teach students how to end bullying and create environments where students can thrive.
"They want the bullying to stop," writes Mark Katz, PhD, highlighting this innovative program for CHADD's Attention magazine. "But they don't know what they can do. They're students at school who witness a fellow student being tormented mercilessly by a more powerful classmate."
Not In Our School provides tools on its website, including a quick-start guide and lesson and activity plans, for schools to begin campaigns that teach inclusiveness and ways to end bullying. By teaching students how to intervene and how to create friendly environments for all students, the program helps to break down harmful stereotypes.
"Identity safe climates (places where all students feel they belong) are particularly important to students whose learning, attentional, or other challenges are sources of embarrassment or ridicule," Dr. Katz writes. "We worry about how others perceive us, which, in turn, affects our performance, which now may confirm our worst fear—that the negative stereotypes are true. Identity safe practices can serve to counteract stereotypes."
Not In Our School campaigns differ in their approaches, focusing on the needs of individual schools. All the campaigns share the program's core principles:
Students take the lead in identifying issues, solving problems, and creating a welcoming environment at their schools.
Schools need to address bullying and all forms of intolerance as part of creating a safe environment for students.
All students can learn to be "upstanders"―active bystanders—who speak up and stand up for themselves and others.
The schools create an environment where students are welcomed, regardless of academic ability, ethnic background, religious tradition, or sexual orientation.
The whole community is involved in creating an empathetic and bully-free environment.
— from Not in Our School: A Student-to-Student Campaign to Create a Safe and Inclusive School Day for All
Learn more about Not In Our Schools and how your child's school can creative an environment for all students to be supportive and success. Read Not in Our School: A Student-to-Student Campaign to Create a Safe and Inclusive School Day for All.