Preparing for Holiday Gatherings with ADHD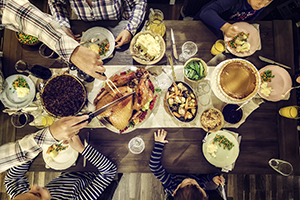 With Thanksgiving dinner, we begin the holiday season. Are you ready for family get-togethers?
Janette Patterson, MSW, LCMFT, and Larry Maltin, MA, have suggestions for hosting or attending large family dinners during the holidays. They know from experience how stressful the holidays can be for families affected by ADHD.
"Getting along can be challenging, especially with ADHD in the mix," they write in Attention magazine. "Ultimately, the goal is to improve family functioning so you can enjoy one another's company and the events. How can you support all members of your family so that everyone can be more comfortable?"
Their strategies can help you manage the holiday season when ADHD is in the mix:
Prepare for holiday events: Talk with your children about what to expect—family members who will be at dinner or events and what they can do if there is a conflict.
Combat boredom: Head off trouble from boredom by finding appropriate ways to distract your children and other family members needing entertainment.
Prepare for family functions: Talk with family members who understand how ADHD affects your family and get their help ahead of time.
Be mindful and self-aware: Practice being the observer and seeing both sides. Be patient! Become the mediator.
Use humor: Look for a positive approach.
"Your efforts can lead to positive family experiences, not only during the holidays, but whenever you get together," they write. "With a positive attitude—and an investment in time and practice—you can make a real difference in your child's life as well as your own."
Get tips for family gathers now! Read Strategies for Making a Change: ADHD, Family Gatherings, and the Holidays.
Other Articles in this Edition