The Therapist Is Online: Telehealth for ADHD Has Benefits and Drawbacks
ADHD Weekly, September 17, 2020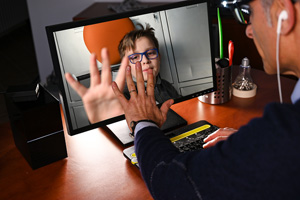 The COVID-19 pandemic has pushed telehealth services, including telemental health, forward as a safer and effective way of receiving needed healthcare while remaining socially distant.
Research has shown telemental health services can be as effective as traditional, in-office visits. For many people with ADHD, both children and adults, switching to telehealth services this year meant that they could continue to work with their treatment providers.
"Telemental health provides the safest and most widely accessible way to connect mental health practitioners with the clients who need them," says Jayce Patton, PhD, director of field experience for Walden University's School of Counseling.
ADHD telehealth in practice
Jeffrey S. Katz, PhD, is a clinical psychologist in Virginia Beach, Virginia, who added telehealth sessions to his practice. He is a member of CHADD's professional advisory board and co-chair of its public policy committee. He says telehealth shows great promise but putting it into practice can be challenging for both the patient and the practitioner.
"Being online with someone is not the same as being in-person," Dr. Katz says. "With therapy and people with ADHD, it's not a simple as people think sometimes. As long as you're dealing with people, you have to have relationships."
It's not as easy to build those relationships online as it is in his office, he says. Much of our communication is conveyed through body language; in online communication, usually through video conferencing, we tend to miss those subtle cues.
Other challenges include privacy for his patients, especially children and teens, and managing family conflicts and heated emotions during sessions. When a person is speaking softly or the internet connect is lagging, Dr. Katz says he has to ask patients to repeat themselves. This creates a distraction in their conversation and can lead a patient to think the therapist not paying attention to what is being shared.
Another challenge is the symptom of distractibility. Most people will do something on the side—playing a game, checking email, scanning social media—while online. This affects the therapy session, he says.
"If someone has ADHD they might not even be aware they're doing it," says Dr. Katz. "It all interferes with the relationships I'm trying to build with them."
Misperception of what happens during therapy can also play a role in creating difficulties. This may include misperception of what the patient expects, what parents might overhear when he works with teens or children, or how other well-meaning adults expect a child or teen to behave in front of the screen.
Tools that Dr. Katz normally uses in his office, such as toys for young children, are simply not available during a telehealth session.
"In the office I see the whole the person here; even if we're sitting silently, there's a purpose," he says. "When I have a family, maybe on one screen or video conference, it can be difficult. How do you make eye contact when you have more than one person on there? It's very strange."
Telemental health as a choice for your family
Dr. Katz bases his general concerns about telemental health on his own experiences and says other professionals may have had different experiences with their patients. He is hopeful about the option of telehealth for people with ADHD and other mental health concerns. An open conversation with the therapist about what is best for the person seeking support is the key.
"Therapy is most beneficial if you do it for the long term," says Dr. Katz. "Sometimes you have to bring people into the office and focus on what they need."
Teenagers and children often need to be in office as part of the relationship building. Some of Dr. Katz's colleagues are alternating telehealth and in-office sessions with their younger patients, and that approach seems to be helpful. Adults who already have an established relationship with their therapist seem to do very well with telehealth but can still benefit from occasional in-office sessions.
Dr. Katz says he wants parents to feel empowered in making decisions for their families. Telehealth session have many benefits, including availability when travel is limited. He encourages people to discuss how sessions are going for their children or themselves.
"There are positives to telemental health," says Dr. Katz. "But as a parent, don't feel shy saying to a therapist, 'I don't think this is working, I think we should be coming in.'"
Interested in learning more?
Join the discussion: What are your thoughts on video conferencing for ADHD therapy?