Tips on Finding an ADHD professional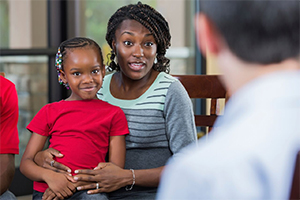 Are you looking for an ADHD professional to help you or your child with an evaluation or treatment plan? Finding the right professional for you makes a difference in treatment and, for many people, how successful treatment can be.
When you are looking for an ADHD treatment provider for your child, a good place to start is with your child's pediatrician. Some pediatricians are well trained in childhood ADHD. The American Academy of Pediatrics recommends that physicians begin the evaluation process for ADHD for children between 4 and 18 years old.
The pediatrician may be able to conduct an evaluation for your child or recommend local health care providers, including child psychologists, psychiatrists, or neurologists who can conduct an evaluation and provide continuing ADHD care. Some pediatricians can also help to connect you to community resources for parent training for behavior therapy.
For adults, checking with your primary physician can be helpful. Your doctor may be able to provide a referral to a specialist who can begin the evaluation process.
For both adults and children, you can also check with your current health care plan for participating psychologists, psychiatrists, therapists, or neurologists who specialize in ADHD care. While all of these professionals can conduct an evaluation, a medical doctor is needed if medication is included in treatment plan. Most neurologists will refer patients back to another specialist for continuing care. Psychologists and therapists can use behavioral management as part of treatment and often work with patients to build behavioral skills. For children, you may wish to consider an educational specialist or therapists if there is a concern about learning challenges.
Other professionals who might contribute to your treatment plan, or your child's plan, include occupational therapists, speech and language therapists, behavior therapists, coaches, and professional organizers.
Other ways of getting referrals include attending a local support group and talking with other members for their suggestions. CHADD has local support groups, and there may be one near you. You can also check our resource directory for professionals in your state. You can find both chapter locations and professionals in the CHADD Directory.
Still looking for resources? Visit Professionals Who Diagnose and Treat ADHD.