'Tis the Season: Classroom Tips for Teachers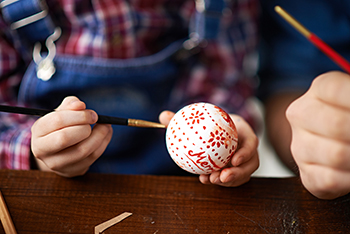 The holiday season and the days leading up to it can be pandemonium in the classroom. Students are excited for the upcoming holiday break; assemblies or concerts can throw a wrench into your normal classroom routines; and even the students without ADHD can be easily distracted. What's a teacher to do? We talked with some classroom teachers for tips to help get your students working together, bring back their attention after a distraction, or when the class may just be too rambunctious.
Try mindfulness
Linda Ryden, the author of Rosie's Brain and the Peace of Mind Curriculum Series, teaches grades 1–5 at Lafayette Elementary School in Washington, D.C.
"I would suggest that teachers try what I call Take Five Breathing," she says. "To do it, you sit down and trace your hand with your index finger starting at the outside base of your thumb (like we used to do when we were tracing our hands to make a turkey). As you trace up your thumb you take a gentle deep breath in, as you trace down the other side you slowly breathe out. You repeat this pattern—breathing in as you trace up your finger, breathing out as you trace down your finger—until you have traced your entire hand and taken five slow deep breaths. It is an easy, simple mindfulness practice that can help kids transition and calm down when things are hectic. If things are really hectic, they can Take Ten and trace the other hand. It is especially effective when you sit and close your eyes while you do it. This sort of tactile practice seems to work especially well with my kids with ADHD who have an easier time with this than with other forms of mindful breathing practices."
Sing a song
"For my class at this time of year, this means learning a new song that goes with a challenging project—creating and rehearsing a musical performance," says Heidi Mordhorst, a poet and second grade teacher at Rock View Elementary School in Kensington, Maryland, and author of Pumpkin Butterfly. "Working on something new and special can focus attention on a group goal, and singing is a way to manage breathing and make something beautiful together. I also use singing as a way to call the class to attention—little melodies that are sometimes familiar and sometimes totally new. The sound carries better and is more attention-grabbing in a peaceful way than yelling."
Talk less, smile more
"When I want to introduce something new, or they are really off the wall," says Beth Ann Thornhill, an eighth grade science teacher at Raymond Cree Middle School in Palm Springs, California, "I grab their attention from the start of class (even before roll call) by smiling huge and then lowering my voice just a hair―so they see my expression and then have to strain to hear me. They know something is up and 99 percent of the time they start 'shushing' each other so they can hear me. I walk slowly and deliberately across the room from one side to another and really look into their eyes, all while I'm slightly lowering my voice and smiling. Then I randomly choose one or two of the students to make some comment to―something funny―so I get them relaxed and grab attention from the whole class."
Keep routines when you can
"Keep routines as normal as possible," says Nicole Scafone, a preschool teacher at St. Andrew Apostle School in Silver Spring, Maryland. "Try to limit the amount of transitions going on in a day. Plan for the necessary ones, but also have a game plan for unplanned transitions. Plan in some downtime. If students are going to have to sit for a while for a performance or assembly, let them do something first―messy, large body movement, something that does not require a lot of sitting, but gets their body and mind moving―so when it's time to sit, they will be able to with less distractions."
Use incentives
"Using incentives can be useful as well. Classes or even individuals can earn extra recess or a fun activity if they get their work done," says Janet Sluzenski, a counselor at Highland View Elementary School in Silver Spring, Maryland. "One teacher I know builds a snowman piece by piece for good behavior and work completion. Then the class has a movie and popcorn or other fun activity."
Let children be children
"Some of my kids seem to be inattentive, but when I check in, they understand what we've been discussing," says Shelly Craig, a third grade teacher at Spicewood Elementary School in Austin, Texas. "I think about how as an adult, I tend to doodle in meetings although I'm still listening. One of the things I do is just to give the kids the benefit of the doubt―check in, if they're listening, continue to allow them to look as if they're not paying attention. I also let my kids sit around the room or stand if they need to. They can work on the floor, under desks—whatever they need to be productive. I'm not very rigid when it comes to 'desk' work."
This "freedom" works for older students too. "Kids with ADHD need movement," says Ms. Thornhill. "As long as they don't bother others, my kids can get up and walk or stand. I'll send them on an errand. I'll have them come over to me and tell them some secret, just to break up the monotony."
Help students understand their own needs
"I use a peace place (a cozy corner in the classroom with pillows and books). Kids can take a ticket and go to the peace place as needed. I also allow fidgets (stress balls) and chair bands (rubber exercise bands around chair legs)," says Alison Thompson, first grade teacher at Green Acres School in Rockville, Maryland.
Take brain breaks
Both Shelly Craig and Janet Sluzenski recommend GoNoodle, a website with free, short interactive activities that provide brain breaks in the classroom. These breaks are an easy way of helping kids take a mental or physical break. Says Ms. Craig, "I purposefully call them to the carpet when we've had long, sustained periods of concentration. The movement from one place to another gives them a mini break and allows for better focus on the next thing. When they're absolutely squirrelly, we'll do a GoNoodle (activity)."
Embrace the season…
Ms. Thompson says, "I do a lot more hands-on activities this time of year: gingerbread scented Playdough, cooking and baking, etc. We do big clean-up jobs in preparation of the break, and I have a job jar that wiggly kids can reach into and pull out a job: test and trash markers, sharpen pencils, recycle paper, wash out bins/wipe cubbies, deliver items to lost and found. We also run a post office out of my classroom so kids are all over campus delivering mail all day."
…But not too soon
"We practice ignoring the holidays until the last minute (in October for Halloween, too)," Ms. Mordhorst explains. "We talk about saving up our excitement so that it's not all used up by the time the holiday arrives, and I save up a modest number of seasonal books, materials, and activities for the last few days."
What other suggestions do you have during this time of the year? Share them with our community.