Traveling Abroad? Check Medication Laws Before You Go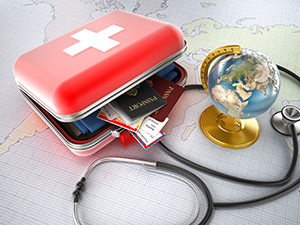 Are you making plans to travel this holiday season? Now may be the time to book your airline tickets, but if you have been prescribed a medication for your ADHD symptoms, or your child has, you need to be prepared to travel with your medications. International travelers especially must be aware of laws regarding their medications in other countries.
The U.S. Department of State describes the situation of a U.S. citizen who was arrested in Japan last year after having her stimulant medication shipped to her while visiting. She had the medication repackaged in the hope of protecting her privacy. Her prescription Adderall, which is an amphetamine, is not legal in Japan.
"She was released after 18 days and heavy U.S. legislative- and diplomatic-level lobbying," the state department reports. It warns that other countries, including countries in the Middle East and South East Asia, also ban or restrict ADHD medications commonly prescribed in the United States. European countries often have limitations on these medications, making it important for you or your doctor to check on regulations in those countries before you travel overseas with your medications. You can also contact the U.S. Department of State for additional information.
"Travelers should not assume that medications approved in the U.S. are approved in another country," the state department advises. "At least two months before departure, the traveler should consult with the treating physician about specific medications and obtain a list of comparable, generic names, including their dosage and composition, in case there is a need for a refill if the medication is licensed."
Travel within the United States is less problematic but still takes some preparation. When you begin your travel plans, you should be aware of when your prescription will likely need to be refilled. You may need to find a pharmacy near where you are visiting that can refill your prescription. You may be able to have your doctor write an extended prescription with enough pills or doses for the length of your trip.
Questions to ask before traveling internationally:
Talk with your doctor ahead of time before any planned travel. Call the doctor's office as soon as possible if you need to travel on short-notice.
Research your medication in the country you plan to travel to. Is the medication legal or permitted under limited circumstances where you are going?
How can you receive approval if your medication is limited in your destination country?
What medications can your doctor prescribe for you that are legal in your destination country?
Is there a local doctor you can consult with in your destination country? Is there a pharmacy nearby that carries your medication and can accept a prescription from the U.S.?
Will your insurance cover overseas medical care or do you need to purchase additional insurance?
Medication travel tips:
Always carry medications in their original containers, listing both brand and generic names.
Make sure the label on the medication bottle identifies the person that has been prescribed the medication.
Keep medications with you in a carry-on bag or purse.
Carry a copy of your doctor's prescription and the reason for your medication.
Keep information about your diagnosis or medications you may be carrying to yourself to reduce the risk of theft while traveling. Others travelers don't need to know that you have your medications with you.
Research any state laws regarding stimulant medications. Your doctor may be able to guide you to appropriate resources.
Make sure you have enough medication to cover your entire trip. If you will need your medication refilled, discuss this with your doctor ahead of time. Look for a pharmacy near your destination that can refill your prescription if it will be needed.