Virtual ADHD Conference Brings Together Attendees from Around the World
ADHD Weekly, November 19, 2020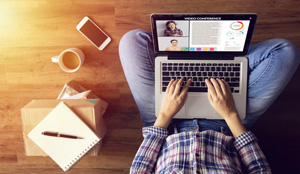 The 2020 Virtual International Conference on ADHD drew a record number of attendees. More than 1,300 people from around the world tuned in to be part of webinars, peer-to-peer groups, and the talent show.
"This was a terrific event," says Hermoine Wellman, CHADD's director of Meetings and Events. "We had an unbelievable turnout. Attendees really enjoyed the sessions and the virtual conference experience."
"I've heard from so many people who attended this conference for the first time because it was virtual," says Duane Gordon, president of the Attention Deficit Disorder Association (ADDA).
An ADHD conference like no other
The annual conference hosted by CHADD, ADDA, and the ADHD Coaches Organization brings together members of the ADHD community along with leading experts and authors.
Themed "Strong Minds, Healthy Lives," this year's conference featured 60 general sessions and 20 professional workshops presented by renowned ADHD clinicians, researchers, and coaches; numerous peer-to-peer sessions, non-session activities, and networking opportunities; and a virtual exhibit hall.
Conference-goers attended from around the world. This event is the highlight of the year for the ADHD community and organizers worked hard to make it both an intimate experience and one that involved attendees in peer discussion and social events. The annual talent show was well attended by video.
"There were still late-night parties, and people connecting over lunches and breakfasts—they just were done over Zoom," says Mr. Gordon. "There was still that human connection the conference is all about. This conference exposed a whole new group of people to the power of hanging out with people who just get you."
Virtual event allowed for greater access
The 2020 event was held virtually due to the ongoing COVID-19 pandemic. It was originally scheduled to be in Dallas, Texas, however guidance created to prevent the spread of the novel coronavirus meant a change of plans. This created an opportunity for many people who would not have been able to travel to the original destination to be part of the world's largest ADHD gathering.
"Many of our international members would never have been able to travel to our conference if it had happened in Dallas," Mr. Gordon says. "There were live events, where people gathered in a Zoom room and conducted live support groups and interactive sessions. I've heard so many people share how life-changing those sessions were."
"While it's disappointing that we couldn't gather in person this year, we expect that holding the conference virtually was a benefit for the ADHD community," says conference co-chair Ari Tuckman, PsyD. "This format presented a much more convenient and substantially less expensive way to attend. We built in several opportunities to interact with our speakers and other attendees, which is an important part of the conference experience. We're really pleased to be able to enhance access and foster connections at an especially critical time in the ADHD community."
Read more about the 2020 Virtual International Conference on ADHD